Fine Art José Amin gains prominence on the national visual arts scene.

The doctor José Amin, graduated since 1974 from the Federal University of Mato Grosso do Sul - MS, is born in Três Lagoas - SP.
Doctor José Amin is a member of the Academy of Medicine of Mato Grosso do Sul and President Director of the Museum of History of Medicine of Grosso do Sul. He started in the visual arts in 1988. Currently, he divides his activities between brushes and medicine in the capital of Campo Grande, where he maintains his atelier consolidated in the state of Mato Grosso do Sul. His paintings are spread across the Capital Sul-Mato-Grossense, especially in medical offices. In this new phase, it seeks to conquer the Brazilian plastic arts market, through a partnership with the São Paulo gallery.
Fine Art José Amin is a born contemporary visionary with a broad vision for the future of art, investing his productions in textured works with vibrant colors that are not only present on his canvases, also producing NFTs and 3D objects. With accessibility on the national and international scene, the plastic artist became the most active artist at Galeria Marcelo Neves. And, he has just presented his work for the 2nd time at Shopping Parque da Cidade in São Paulo, in the 2nd Edition of the Todos Juntos na Arte show, curated by Rosita Cavenaghi, with his work being sold almost instantly as it permeated the show's environment. With an informal product, with no intention of seeking forms with the outside world, his work is the result of the inner expression of painting through painting, composition and spontaneous forms. The possibility of transmuting the work arose at the invitation of Marcelo Neves Art Gallery, for which Amin is an exclusive artist. The artist is looking for new projects with his work, this time in 3D, which is still in the production phase. I send the painted canvases to the gallery in São Paulo and they develop the project to fix these canvases on several different supports, such as cubes or mobiles, that is, in a three-dimensional format", he explains.
The artist also won this one at the Exhibition in Rome/Italy – Art without Borders, an exhibition promoted by Galleria La Pigna, curated by Lígia Testa and Sandra Setti. The event took place from the 9th to the 19th of this year (2022) which brought even more relevance by exposing his textured works with vibrant colors and intense visual expression, which are not only present on his canvases, also producing NFT's and 3D objects.
The artist also participated in exhibitions at Galeria Val / SP (INDIVIDIAL), Galeria ANDRÉ / SP (COLECTIVE), Latin Art Gallery Miami / USA (collective), Museu Vizcaya Miami / USA (collective), Galeria Itaú Campo Grande / MS (individual ).
A Brazilian-American Chamber of Commerce (BACCF) & Choaib, Paiva e Justo Advogados Associados
lhe convidam para um workshop sobre:
Perspectivas e desafios do próximo governo no âmbito fiscal
Composição do parlamento brasileiro após a eleição

Reforma Tributária

Projetos já em andamento no Congresso

Imposto sobre dividendos

Imposto sobre a fortuna

Tributação de operações no exterior

Isenção de impostos para investimentos em títulos privados no Brasil
*This event will be conducted in Portuguese
Quarta-feira, 9 de novembro de 2022
‌
‌
‌
---
PAID FOR BY ELECT BLACK DEMOCRATS | PO BOX 15320, DC 20003
Brazilian-American Chamber of Commerce of Florida | P.O. Box 310038, Miami, FL 33231

Friend, it's James, and I need to speak to you heart-to-heart:

Tonight's emergency triple-match deadline is the most important fundraising deadline of my lifetime – and yours.

As I write to you, our friend Sen. Catherine Cortez Masto (D-NV) is nowhere close to her emergency $250,000 goal, and if she falls short tonight, we lose everything. We lose our Democratic Senate majority, Mitch McConnell will pass a horrific national abortion ban and our country will veer onto a terrifying path we may never recover from.

With polling in a statistical tie, this is Sen. Cortez Masto's one final chance to overcome McConnell and his super PAC's $25 million attack ad blitz and retake the lead, but this situation is getting more dire by the minute. So friend, I'm asking you from the bottom of my heart to chip in $5… I will TRIPLE it so your $5 is actually worth $15 to protect this seat and our Senate majority!

>>> Here's the link where I'll see your donation come through: https://secure.actblue.com/donate/cortezmasto-digital_102022-email-match

Thanks.


– James Carville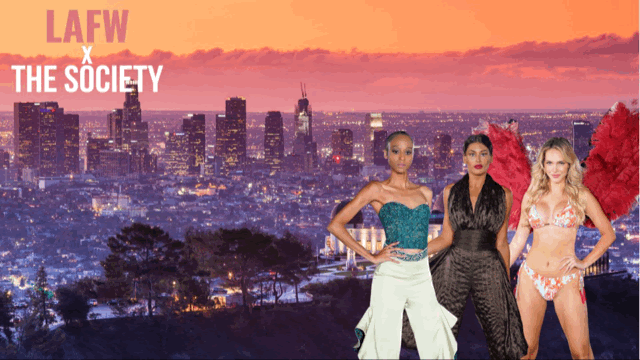 Get ready LA, we are coming back! LAFW X The Society will take place March 24-26, 2023! We have a huge LA announcement coming soon! Do NOT miss your chance to witness LA Fashion Magic! Tickets are going fast, get yours today!
Keep Scrolling For A LAFW Sneak Peek!
Featuring:
Krissy King X Homespun Heart
A trendy swimwear show featuring unique designs, handmade wings, and some of your favorite social media models will be taking over our runway this march! Get your tickets to be a part of this incredible experience today!!

Very Limited Designer Spots Remaining
Contact us today to become a part of The Society. Showcase your brand at shows across the world, gain access to sell your products on our online marketplace, and be seen by a variety of press and media publications. Elevate your brand with The Society Today!
Join Us At All Future Stops!