A Brazilian-American Chamber of Commerce of Florida & Saint Joseph International Group lhe convidam para um Seminário sobre
1 - ESTRUTURAS DE INVESTIMENTO EM UM MUNDO PÓS PANDORA
Problemas de privacidade e compliance com as estruturas tradicionais.

Por que Dakota do Sul se tornou a melhor jurisdição para planejamentos Off-Shore?

Planejamentos sucessórios e tributários com Trusts para Brasileiros.
2 - OS CENÁRIOS POLÍTICO, JURÍDICO E ECONÔMICO NAS AMÉRICAS E OS SEUS REFLEXOS EM INVESTIMENTOS E IMIGRAÇÃO
Pontos de interconexão entre reformas tributárias no Brasil e EUA.

Fluxo de imigração para os EUA e os planejamentos pré-imigração à luz das mudanças no cenário jurídico.

O futuro dos investimentos Off-Shore no cenário global em mudança.
Café da manhã completo será servido
Data/Hora:

Terça-feira, 15 de março




Local: Kimpton EPIC Hotel

270 Biscayne Blvd Way, 14° andar




Café da manhã completo será servido

*This event will be held in Portuguese
Brazilian-American Chamber of Commerce of Florida | P.O. Box 310038, Miami, FL 33231
| | | |
| --- | --- | --- |
| | Eat | Drink | Shop | Explore | See what's happening at Industry City this week. | | View Online |
NEW LOOK: TAZA MKT

TAZA MKT | BUILDING 2 | MON - SUN, 12 - 5PM

Taza Mkt has reopened its doors with a new look, updated menu, and grocery corner, including Taza's very own take-home dal kits + spice blends.
FRIDAY: Live Latin Music

Friday, Feb 25 | 6 - 9pm
Sahadi's - Courtyard 3/4

Music by Cuarteto Guataca by the fire pit at Sahadi's.

FRIDAY: Live Bossa Nova Music

Friday, Feb 25 | 6 - 9pm
Barrow's Intense - Courtyard 5/6

Grab a drink, and cheers to the weekend with Brazilian beats.

SATURDAY: Bead Workshop

Saturday, Feb 26 | 12pm
Innovation Alley - Building 5

Join Saskia for a kids + adults beading workshop. Kits are available to purchase.

SATURDAY: Songs + Shenanigans

Saturday, Feb 26 | 3 - 6pm
Big Alice Brewing - Building 6

Come have a whale of a time! Enjoy live music from some of Irelands's finest musicians while tossing back a pint.

SATURDAY: Live Funk Music

Saturday, Feb 26 | 3 - 6pm
Sahadi's - Courtyard 3/4

Join us at Sahadi's outdoor seating in Courtyard 3/4 with live funk music by Chuck + Friends.

SATURDAY: Live Music w/ Robert Whaley

Saturday, Feb 26 | 5 - 8pm
Barrow's Intense - Courtyard 5/6

A weekly show by Robert Whaley and his band for your weekend enjoyment.

SATURDAY + SUNDAY: Live Music

Saturday, Feb 26 | 6 - 9pm + Sunday, Feb 27 | 3 - 5pm
Standard Wormwood - Building 6

Join for a rotating roster of live music and in house-made spirits and specialty cocktails.

SATURDAY: Holy Hand Grenade Comedy Show

Saturday, Feb 26 | 6 - 9pm
Barrow's Intense - Courtyard 5/6

Join for a hilarious evening of stand-up comedy featuring some of NYC's top comedians!

SUNDAY: Live Afro Jazz

Saturday, Feb 27 | 3 - 6pm
Sahadi's - Courtyard 3/4

Come listen to a variety of Afro-Jazz and Latin, a mix of fun and exciting music under Sahadi's heated tent.

SUNDAY: Live Jazz w/ 2 Blue Aliens

Sunday, Feb 27 | 2 - 5pm
Barrow's Intense - Courtyard 5/6

Grab a cocktail and join us in the courtyard for an afternoon of live jazz!
| | |
| --- | --- |
| | |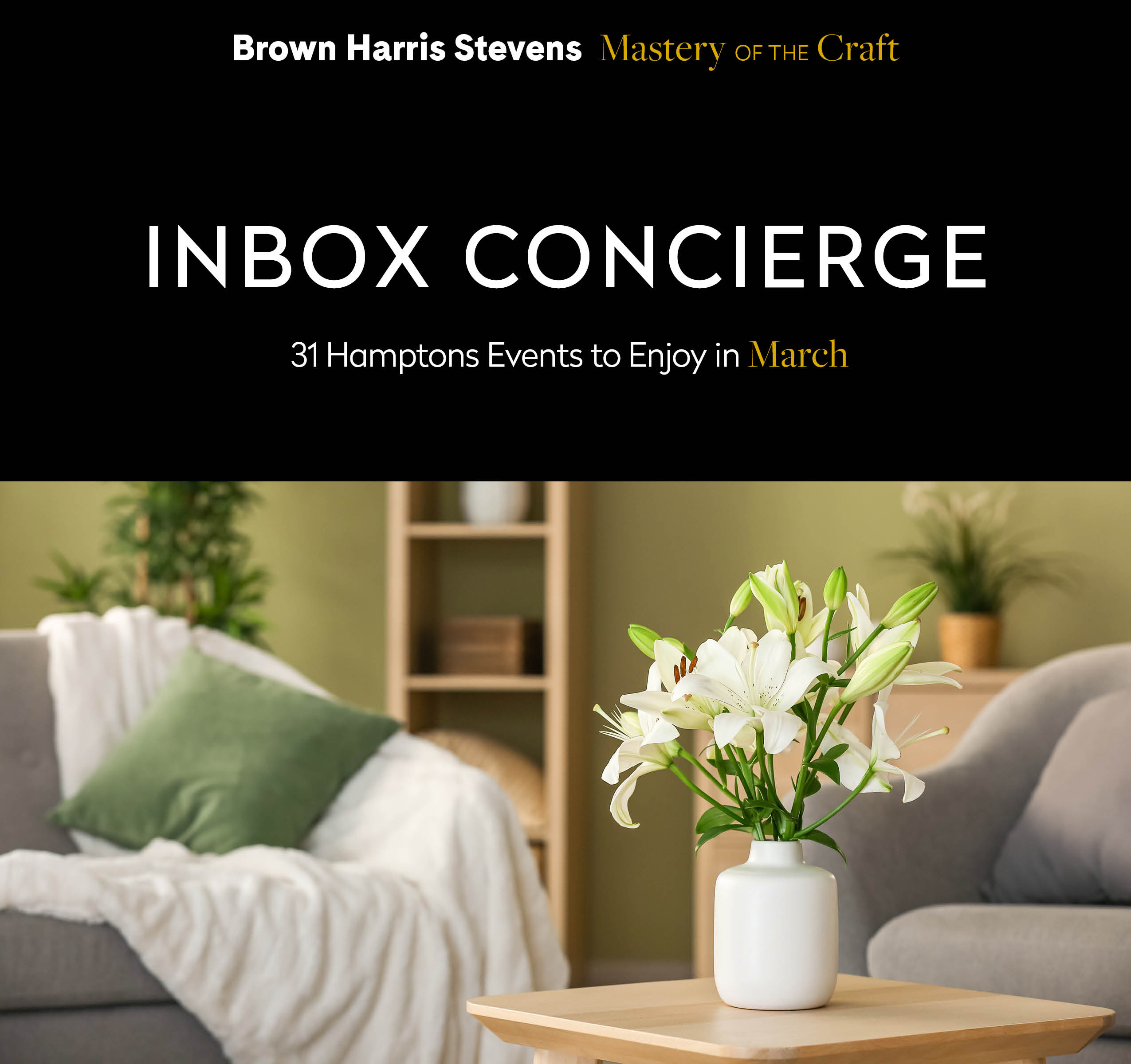 Spring is in the air and as we awaken from the winter's slumber we're all in search of fun. There is no shortage of activities throughout the Hamptons this month; the only challenge is in the choosing! Please enjoy my curated selection
of 31 interesting events for March.
Jennifer Linick
Licensed Real Estate Broker
631-897-3313
| | |
| --- | --- |
| Be entertained and amazed by the close-up magic of Alan Kronzek, who stuns audiences with his own blend of conjuring, science, history and art. | Splash, pour, scrape, swoosh. How can you apply paint in experimental ways to create dynamic emotional effects? At the Pollock-Krasner House. |
Regain your enthusiasm for protecting our marine environment by learning about the fascinating marine life that inhabits the waters of Long Island.

Shel Silverstein Word Play

Dive in to splash in the pool of smart and silly language found in the writings of Shel Silverstein in this fun, interactive event.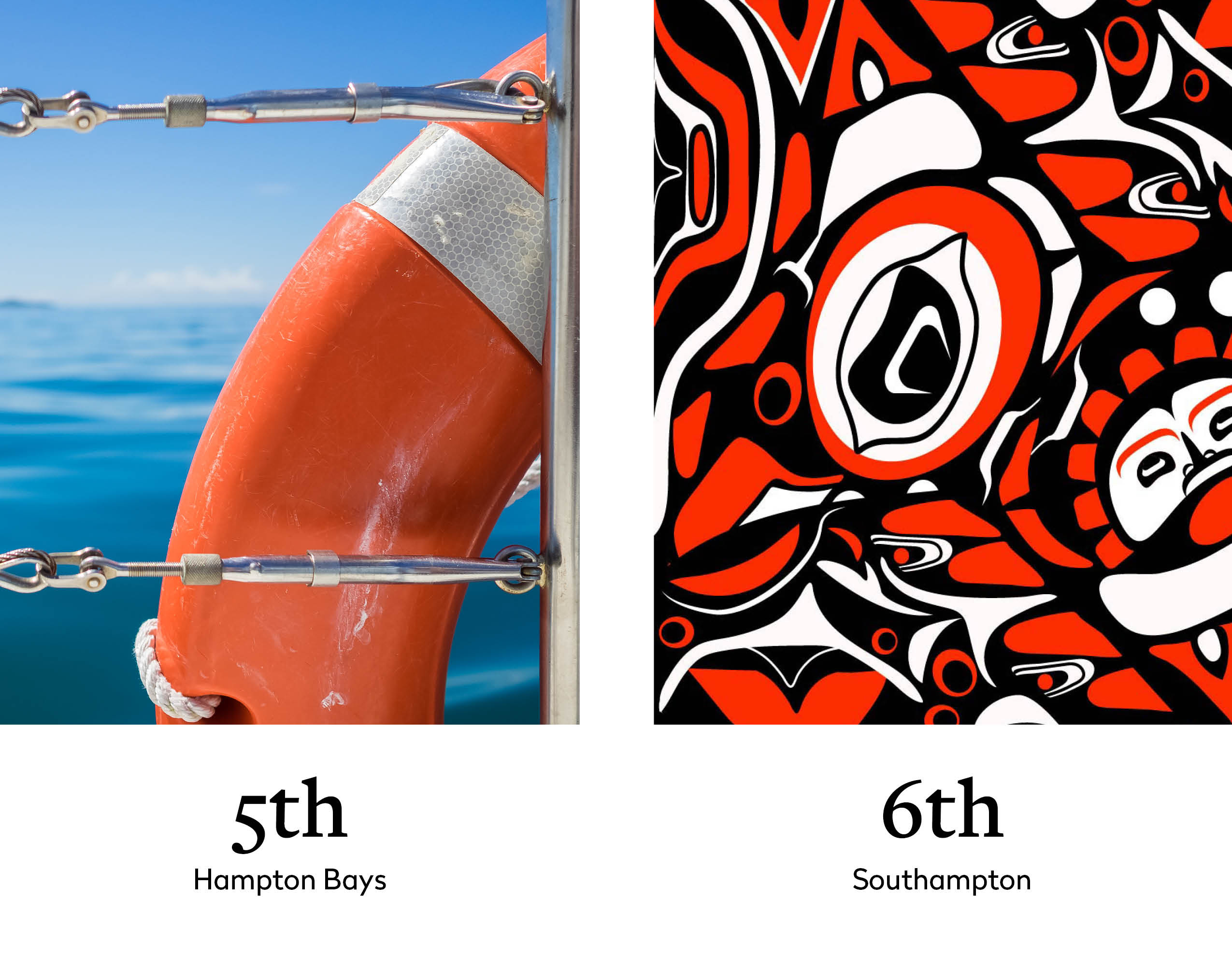 | | |
| --- | --- |
| Get ready to be on the water safely this summer and attend the Boating Safety Course from the U.S. Coast Guard Auxiliary. | A curator-led tour of the exhibit Outcropping, a multimedia exhibition by Indigenous artists from an array of sovereign nations. |
Group Singing at Bay Street

Built for the person who loves to sing but may be uncomfortable singing in public, these workshops are held in a comfortable, collaborative environment.

Power, grace and fitness are brought together in this classical form of dance. Brush up on your skills or start learning ballet from scratch!
Join in a brief overview of cryptocurrency. Learn the history of bitcoin, find out what blockchain technology means, and discover where to buy cryptocurrencies.

Lichtenstein, Pop Art Groundbreaker

Fascinating presentation on Roy Lichtenstein, a leading figure in the Pop Art movement, blurring boundaries between "high" art and "low" culture.
Oscar Nominated

Short Films

Before the awards, view all of the Oscar nominated Animated, Live Action and Documentary short films.

A nighttime expedition to Montauk's vernal ponds, one of the few places to find the elusive and beautiful, Blue-Spotted Salamander.
| | |
| --- | --- |
| Come to the library and enjoy the music of Fiddler's Green, as they perform traditional music of Ireland in an authentic acoustic style. | Learn how to make your own custom sterling silver jewelry in a dynamic and historical space. A priceless learning experience you won't forget. |
Art Celebrating

Women's History

Learn about the lives and groundbreaking creativity of the women who pioneered abstract art; Lee Krasner, Elaine DeKooning, Helen Frankenthaler, and others.

Full Moon Hike

at the Wildlife Refuge

Celebrate the full moon with a nighttime hike through the forest up to North Pond as we look and listen for nocturnal creatures, and enjoy some night vision activities.
The Grift: The Art of Deception

Part theater and part game, The Grift is an immersive, site-specific experience beginning and ending at Bay Street, and moving through several locations.

The Hamptons Jazz Fest Winter Series presents Manuel Valera & New Cuban Express for an evening of jazz and cocktails! Mix and mingle with musicians afterwards.
From the legendary Studio Ghibli and director Hayao Miyazaki, comes an epic masterpiece of breathtaking imagination, exhilarating battles, and deep humanity.

Tired of playing chess online?

Meet other players at every experience level for a friendly game in the East Hampton Library. Meets every Sunday.
Do you crochet, knit, felt, weave, embroider, cross-stitch, spin, sew, quilt, macramé? Then come join this supportive group for some crafting, chatting, and sharing of ideas.

Certify Your Garden as a Wildlife Habitat

Join the National Wildlife Federation's program to create a welcoming haven for local wildlife and a Certified Wildlife Habitat.
19th Century Female Voices

Operatic music has touched people's emotions since its inception. This series features prominent female voices in 19th century operatic history.

Achieving Votes for Women

A timely lecture on the history, impact and accomplishments of the suffrage movement on Long Island.
| | |
| --- | --- |
| A casual community gathering with Shinnecock Nation storytelling. Artists and local community leaders and partners will also be on hand to talk about their work. | The celebrated Verona Quartet makes their Bridgehampton Chamber Music debut in a program of favorites by Schubert and Beethoven and a quartet by Gabriela Lena Frank. |
A naturalist-led, dusk-time walk in search of the American Woodcock, whose Springtime mating call and aerial display is unforgettable.

Fitzgerald Story Discussion

Join a reference librarian for a short story discussion series on F. Scott Fitzgerald's masterfully crafted gems with vivid, timeless characters.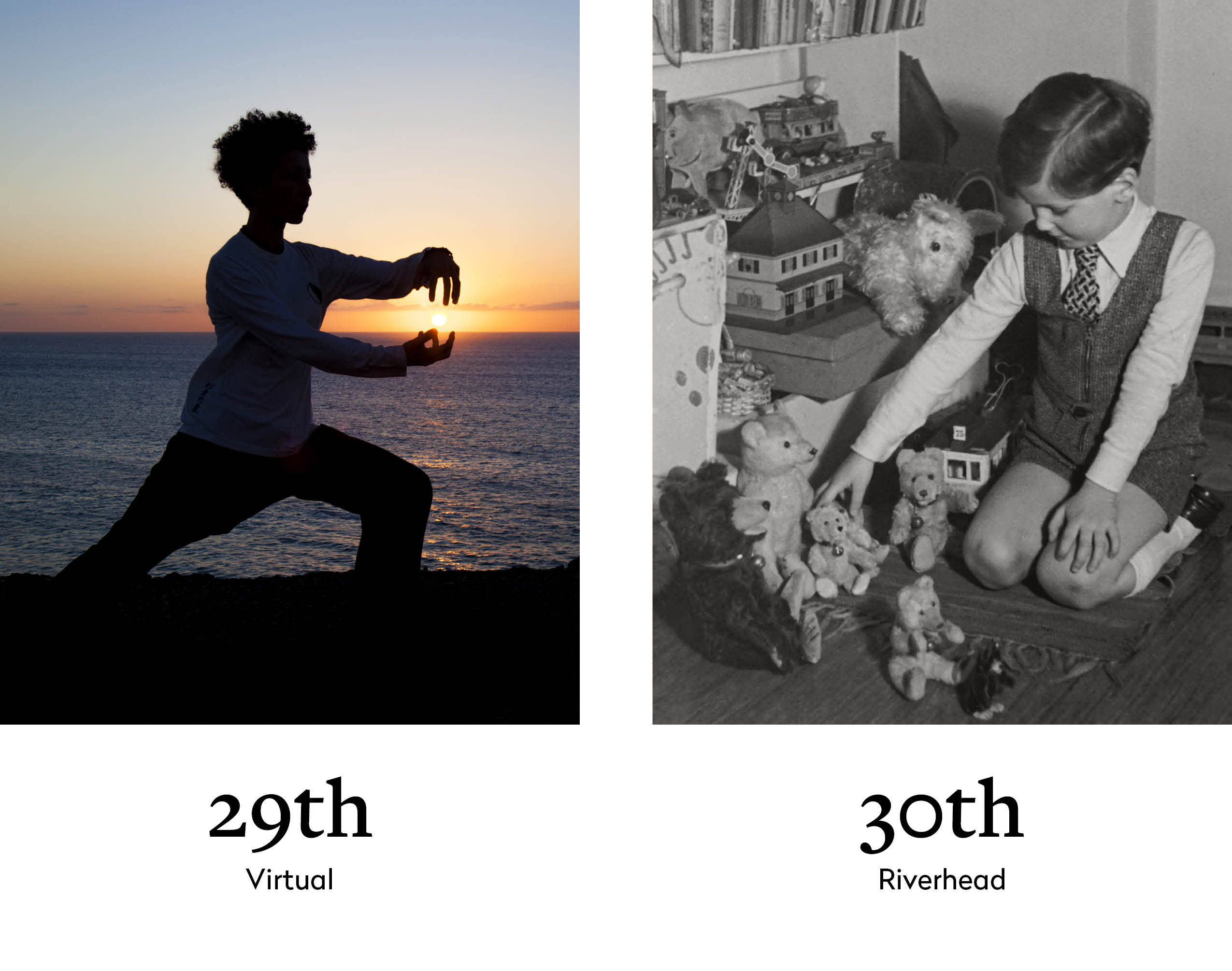 Tai Chi combines balance training, inner and outer body strength, and mind focus, as well as providing a means to meditation and stress reduction. All experience levels.

Inventing Childhood: Victorian Toys

In the Victorian Era, childhood finally became seen as a time of innocence, whimsy, imagination and fun. See dozens of Victorian toys, dolls, games.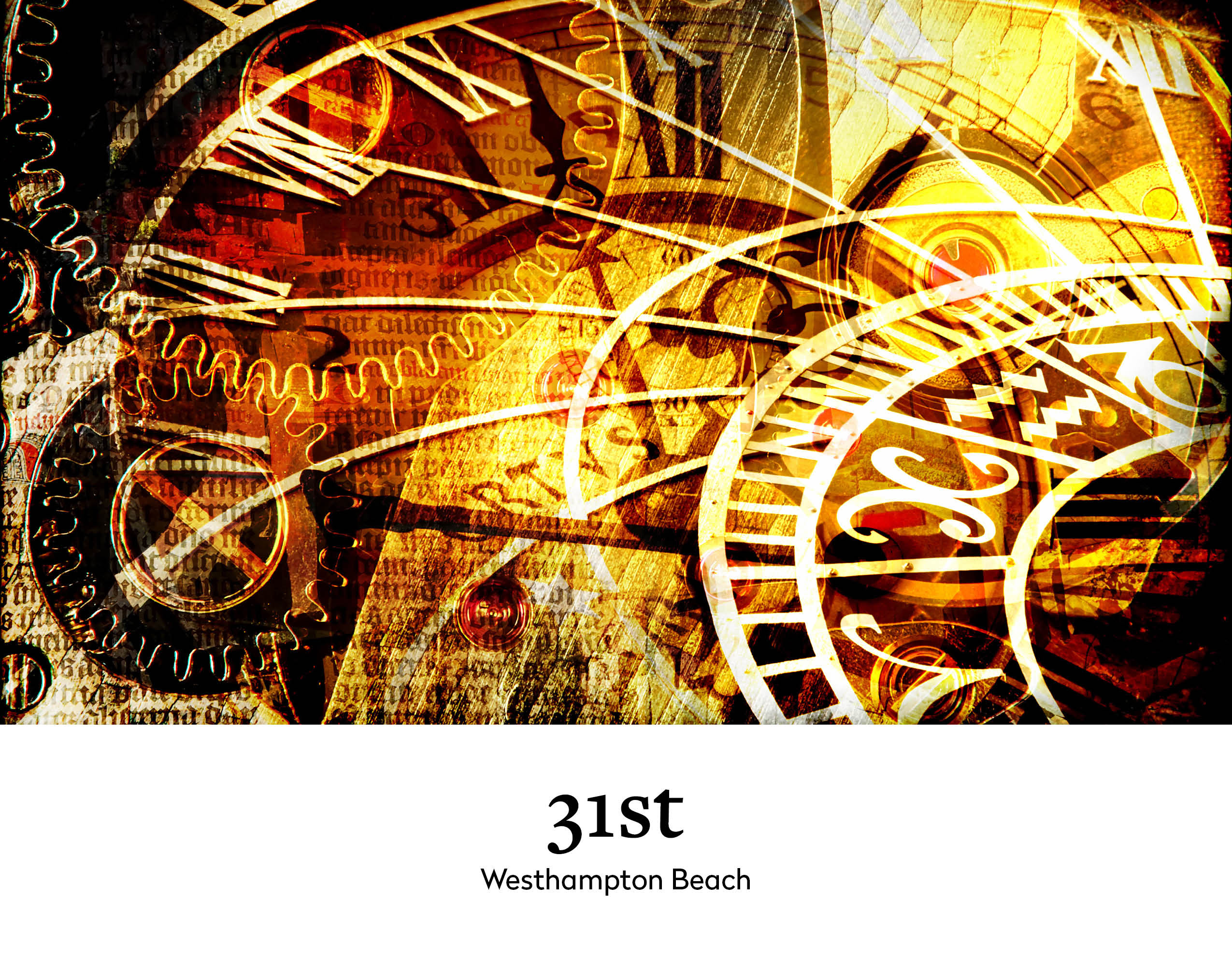 Enjoy a screening of the 1960 film version of the classic H.G. Wells story, starring Rod Taylor and Yvette Mimieux. Afterwards, discuss the mark each star left on cinema, television, or culture with fellow attendees in the lounge.



We hope you enjoyed the past holiday weekend! We are so excited for the approaching spring months and the many exciting announcements and events the FFC community has coming up!

Coming up!

Managing Partner and Founder, Shen Tong will join Jeffrey Zirlin, Paula Carnabuci, and Bill Tai at SXSW 2022 to discuss the intersection of blockchain, NFTs, and social and environmental impact. The panel session will be on March 13, 2022, from 4:00 pm – 5:00 pm CT. You can check out more here!

---

Cohort 10 applications are now open!

Don't miss your chance to apply to FoodFutureCo's tenth cohort of all-star entrepreneurs! The FFC team has eagerly begun the rolling review process and is very impressed with the founders that have already applied. Applications are reviewed on a rolling basis and we encourage you to apply early!

The next application deadline is Friday, March 4th, at 11:59pm EDT.

Know a company that would be a good fit? Refer them!

---

Stay Tuned!

We are gearing up to begin programming for our ninth cohort and we can't wait to share the amazing group of founders and companies with you!




---

Other Community News

Farm Fare r

ecently

released a white paper about Blockchain's Applicability to Regional Food Systems. You can check it out

here!

Fire Ox recently launched their frozen veggie bowls at the Park Slope Food Coop, one of the top single-store grocers in the country.

Tyler Phillips and the team at Hummii have been hard at work developing their very 1st NFT collection! The collection includes an NFT 101 Video for newcomers and you can check it out here!

Tyler and Hummii were also featured in a recent article on the role of utility-oriented communities for the future of NFTs. Read it here!

Lil Mixins

founder Meenal Lele

will be a speaker at the

New Mama

Summit,

a FREE 4-day event for new mothers featuring expert advice and science-backed guidance happening February 23rd-26th! She will be speaking on food allergy prevention methods based on the latest research.

Mama Gaia

recently launched the all-new

Mama Gaia app.


The app offers information on their inventory system, resources for communication through a feedback chat feature, and coupon codes!

Get it on the

Apple or

Android

Stores today!

Pizootz will be attending

Expo Wes

t which will take place in Anaheim, CA from March 8-12, 2022! You can find more information here!

Seal the Seasons steamable bag-in-bag frozen vegetables are being carried at Giant Food Stores! Find Seal the Seasons at a store near you here!

Additionally, Seal the Seasons was featured as one of Frozen & Refrigerated Buyer's Innovation Trends to watch! Read here!

Seal the Seasons will also be attending Expo West!

FoodFutureCo is currently participating in 4 exclusive follow-on investments. If you'd like more information, please contact Michael at michael.conway@foodfuture.co

---

Meet our team and community. Refer a company here.

Follow us on AngelList, Crunchbase, and social media: Twitter, Facebook, LinkedIn, and Instagram.