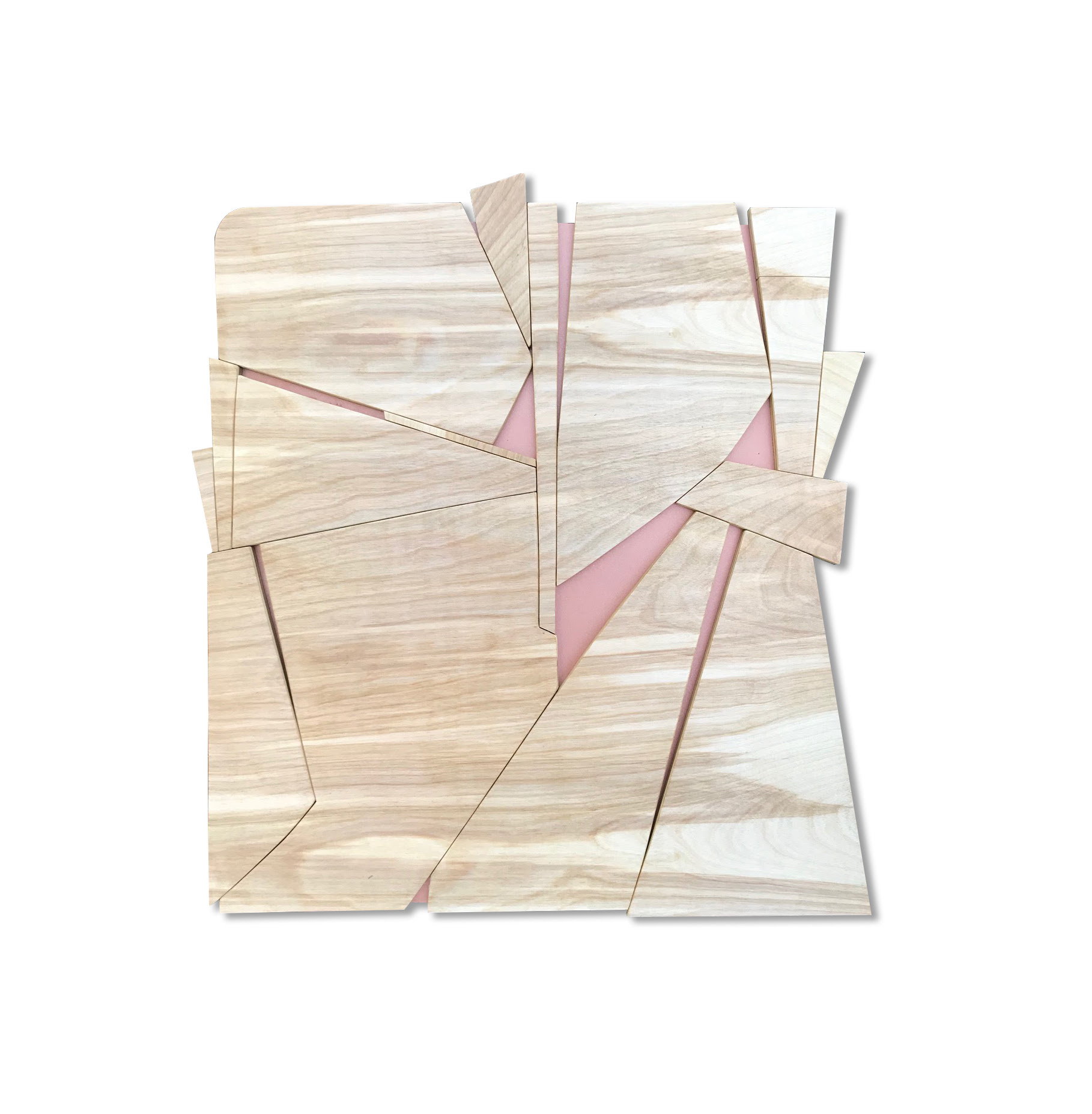 Zephyr
2019
Birch panel, teak oil, copper enamel backer on MDF
23 x 23 x 1 in - 58,4 x 58,4 x 2,5 cm
Freshie
2019
MDF, pigment lacquer on birch panel
31,5 x 29 x 2 in - 80 x 73,7 x 5,1 cm
Convergence Gold
2019
Solid Mahogany on MDF painted with metallic gold gloss automative enamel
37 x 46 x 1,5 in - 94 x 116,8 x 3,8 cm
Atlas
2019
Pigmented lacquer on MDF and solid black Cherry with clear satin lacquer
34 x 27 x 1,5 in - 86,4 x 68,5 x 3,8 cm
LOOKING FORWARD

THROUGH THE PAST
Scott Troxel
January 25 - March 31, 2022
Online Viewing with ARTNET
galerie bruno massa is thrilled for its first time to show recent artworks from Scott Troxel. He draws on the aesthetics of bygone technology and the forward-looking designs of the Atomic Age and mid-century modernism to make dynamic, retrofuturist wooden wall sculptures that evoke nostalgia for the past as much as they look to the future. Fascinated by the way pieces of technology, culture, and design reveal their age, Scott aims to make works that cannot be pinned to a specific era.
The artist is inspired by design and technology throughout the twentieth century, such as mid-century modernism, the Atomic Age, and art deco. He tends to expand upon Frank Stella's famous quote "What you see is what you see." While the viewer tends to bring his or her experiences to Scott's work and "find" something familiar in it, his goal is to create art that features strong composition, balance, color, form and movement. His work relies heavily on these pillars. He then incorporates themes of aging, organic versus man-made, and new versus old in the sense of how we engage with technology, design, and aesthetics across generations. Specifically, he uses the example of midcentury modern design.
According to Scott "It has the rare ability to be timeless yet dated, modern but retro, organic and grounded but still futurist and otherworldly. I find this concept fascinating, and it is the foundation of what I try to achieve in my work. I want it to feel both modern and bold but perhaps from another era—when it was cutting edge, before time passed it by and changed the definition of "new or modern." An example of his work that demonstrates this idea would be "Achtung VI." The piece is bold, graphic and nods to both hard-edge abstraction and post-painterly abstraction. But it's also modern and slightly distressed and grungy. The color palette was taken from a 1950's book cover that has amazing design and color in the golden age of graphic design and color theory.
Scott's works have been shown at The Other Art Fair, SCOPE Miami, Art Wynwood, Texas Contemporary, and SOFA Chicago. Scott's work is in private and corporate collections worldwide including: The Shard Building-London, The Hotel Del Coronado, Westin Hotels, Wyndham Hotels, Embassy Suites, Hotels, Marriot Hotels Hilton Hotels, The View II at Temple University Purdue University, Four Seasons Hotel Group, Capitol One Corporate Headquarters, Price Waterhouse Cooper Headquarters in Manhattan, NY & The Hadle, Philadelphia, PA.

GALERIE BRUNO MASSA

34-36, I. Abashidze, Vake
Tbilisi, 0179, Georgia

12, rue Vivienne
75002 Paris, France

510-520 West 21st Street
New York City, NY 10011, USA

tel. +33 (0) 6 61 00 10 33 (Fr)
only via Signal & WhatsApp
tel. +995 599 073 886 (Geo)
only via Telegram & WhatsApp Business
email.: contact@galeriebrunomassa.com
FOLLOW US on Facebook, Instagram, Twitter & WeChat


Achtung VI
2020
MDF, pigmented lacquer, birch panel & stain
44 x 47 x 2 in - 111,8 x 119,4 x 5,1 cm
SSB3
2020
MDF, enamel, Shou Sugi ban pen pine, stain & satin lacquer
30 x 23 x 1,5 in - 76,2 x 58,4 x 3,8 cm
30 Love
2021
Enamel and latex on MDF & birch with satin lacquer
48 x 48 x 1 in - 121,9 x 121,9 x 2,5 cm
Tiki III
2019
Birch on MDF, metallic enamel & satin lacquer
24 x 24 x 1 in - 61 x 61 x 2,5 cm
Transponder
Latex washes, mettalic Enamel, Birch, MDF & lacquer
24,5 x 24,5 x 1 in - 62,2 x 62,2 x 2,5 cm
Solarus
2019
Mahogany acrylic & tung oil
42 x 44 x 2 in - 106,7 x 111,8 x 5,1 cm
Cronos IV
2017
MDF, acrylic, cherry wood & satin lacquer
29 x 21 x 2 in - 73,7 x 53,3 x 5 cm