HIROMI SENGOKU
Someday, We Will Go There In A Sparkling Green Boat, 2011
145 x 145 cm (h x w)
Oil on canvas
HIROMI SENGOKU
You Should Go to See the World's End, If You Have There in Your Heart, 2014
162 x 162 cm (h x w)
Oil on canvas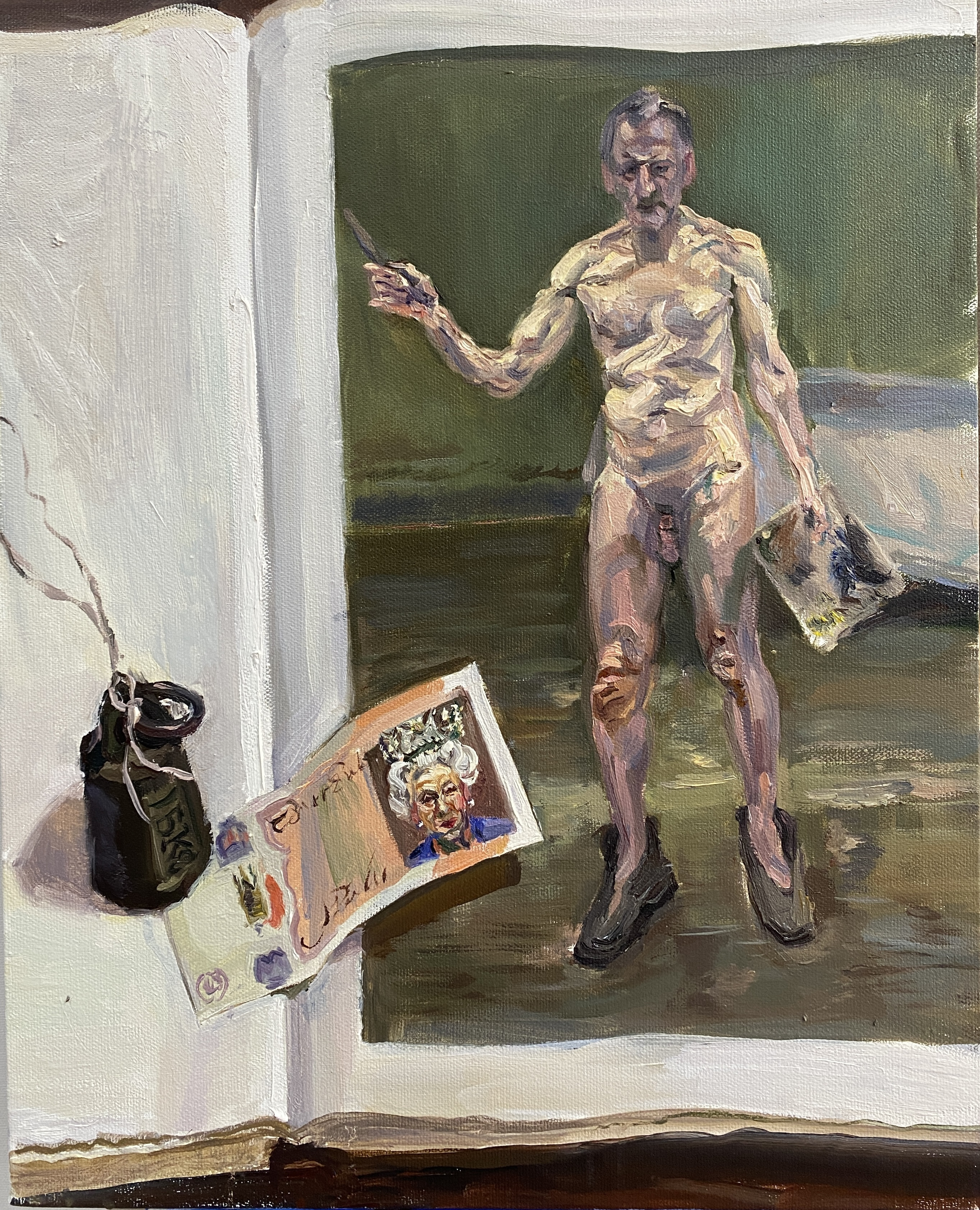 SU YU
Freud Painted the Queen of England, 2021
40 x 30 cm (h x w)
Oil on canvas
SU YU
On Pregnancy, 2016
160 x 120 cm (h x w)
Oil on canvas
The First Hybrid Art Fair in Indonesia
November 22 - December 21, 2021
Online Viewing Only
KARINE BARTOLI, SUMIT MEHNDIRATTA,
HIROMI SENGOKU,
SU YU,
ANDREA VANDONI & XIA FUNING
​

Art Moments Jakarta Online 2 (AMJO 2) returns on 22.11.21 - 21.12.21 at displaying more than 1200 artworks from 56 exhibitors spanning from 9 countries and 16 cities across Asia and Europe. Equipped with the experience learnt from the hybrid art fair experience in June 2021, AMJO 2 will present physical exhibitions to complement the online experience, in the programme of Encounter Moments and Special Presentations from various reputable Indonesian and international exhibitors.

Art Moments Jakarta is a premium art fair owned by Indonesian art collectors and is managed by a team of experienced art fair organizers based in Jakarta and Singapore. The event is a platform for local and international art galleries to network, educate, exhibit, and engage.

"During the pandemic, we were looking for avenues where our patrons and partners could still engage. Virtual platform is the answer to accommodate the gap, to bridge the gallery owners and art enthusiasts and actively promote Indonesian artists and their artworks," said Leo Silitonga, Founder and Fair Director of Art Moments Jakarta.

GALERIE BRUNO MASSA

34-36, I. Abashidze, Vake
Tbilisi, 0179, Georgia

12, rue Vivienne
75002 Paris, France

510-520 West 21st Street
New York City, NY 10011, USA

tel. +33 (0) 6 61 00 10 33 (Fr)
only via Viber & WhatsApp
tel. +995 599 073 886 (Geo)
email.: contact@galeriebrunomassa.com
FOLLOW US on Facebook, Instagram, Twitter & WeChat

XIA FU-NING
Confusion, 2015
120 x 80 cm (h x w)
Oil on canvas
KARINE BARTOLI
Arone 6 Personnages, 2021
73 x 92 cm (h x w)
Oil on canvas
KARINE BARTOLI
Porto, 2018
73 x 92 cm (h x w)
Oil on canvas
ANDREA VANDONI
Correspondences, 2018
100 x 100 cm (h x w)
Acrylic on canvas
ANDREA VANDONI
At The Station, 2010
70 x 90 cm (h x w)
Mixed media on paper
SUMIT MEHNDIRATTA
Visual Healing 15, 2021
100 x 100 cm (h x w)
Archival Pigments on Archival Canvas
SUMIT MEHNDIRATTA
Visual Healing 17, 2021
100 x 100 cm (h x w)
Archival Pigments on Archival Canvas
CREDIT OUTLOOK LATIN AMERICA 2022
For a more complete
view of the year ahead…
January 18, 2022 | 9:00am - 1:00pm EST
As Covid-19 vaccination efforts bring many of the world's governments and corporations back to semi-normal operating capacity, credit market participants are looking ahead to the emerging risks expected to impact markets in 2022 and beyond. These range from recent, high-profile default concerns for Chinese real estate developers, to ever-present risks like rising inflation, to the more existential concerns tied to climate change and other ESG factors.

See the full spectrum of insights for the most complex of markets with Fitch's virtual sessions, and find out how we can give you a more complete view.