Horse Racing Ownership Syndicate, Presented by Alex Gorrie.
JULY SALES UPDATE - 2 CRACKING NEW 3 YEAR OLD PURCHASES!
We bought two cracking new horses at the July Newmarket Sales last Friday.
It turns out that Can't Stop Now was an 85,000 Gns yearling, should have been 2nd at Leicester off level weights with a horse now rated 97. That was also his final run for a handicap mark and they smashed him hard on his handicap debut with a hood on 1st time. Adam Kirby sat way too far back and clearly these tactics meant he stayed on well but had too much to do. I think he would have won his 2nd last race at Kempton if he had stalked the field and his 2nd that day has worked out well with the 3rd winning twice since and the winner going in again. After would bought these cracking horses on Friday our mare Flood Defence won the last race at Musselbugh.
Shine On Brendan and Can't Stop Now are fantastic purchases and the plan is to win with Shine On Brendan on the flat and win with Can't Stop Now over hurdles this year.

Chris Gordon was a massive help at the July sales and he's very happy with his purchase Can't Stop Now. Chris thinks he is the type to do well in juvenile hurdles and he also has bundles of improvement to come on the flat. We at Let's Be Lucky are very happy to have purchased a very nice horse for Chris Gordon and I hope you get behind him because Chris is not that far from Cheltenham and the other big jump tracks in the South.

We are very pleased to buy Rebecca Bastiman Shine On Brendan and if you look at his first 4 starts, they were well above average. He's an ideal replacement for Logi that will be sold in October. I enjoy working with Rebecca and one has to remember that we bet 2 Dark Horse winners from just 4 bets from the Bastiman stable at 9/2 from 11/1 and 7/1 SP in the last 3 years.
OUR NEXT DARK HORSE BET RUNS NEXT WEEK!


Please consider getting involved in our new purchases. We expected to get bargains at the sales but never in our wildest dreams did we expect to get two smashing young 3 years old geldings rated in the 70's. Both horses are fit and well and should be winning this year.

We put in the hard work studying potential LBL horses for the July sales at Tattersals in Newmarket. We had a strong list of horses who ticked all the boxes and passed all checks by our trainers. The tricky part is then trying to buy these horses within budget, in what is always a very strong market! We are delighted to report that got lucky on the day and managed to secure two of our main targets comfortably within budget...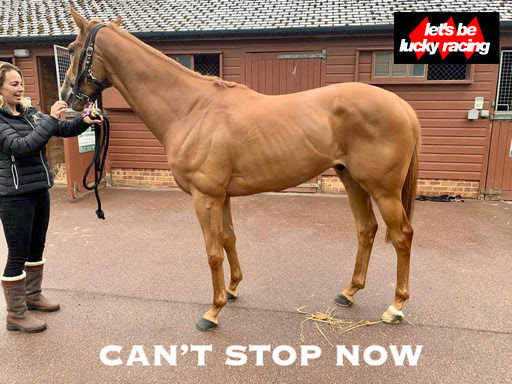 Can't Stop Now is a smashing 73 rated 3 year old gelding by Starspangledbanner (AUS) he has solid maiden and handicap form on the grass and sand and stays well, goes with cut in the ground and does not have many miles on the clock. He has a peak rating of 74 and could be anything.
A big thanks to Chris Gordon for buying us this very exciting young horse to go juvenile hurdling. We are delighted to have bought him such a great prospect. Can't Stop Now has a massive engine and we can't wait to see him hurdling this winter with a trainer that Let's Be Lucky rate highly.
Share Prices:
0.3125% Share £85 up front & £12.50 Per Month
0.625% Share £140 up front & £25 Per Month
1.25% Share £250 up front & £45 Per Month
2.5% Share £450 up front & £80 Per Month
5% Share £800 up front & £150 Per Month
10% Share £1,500 up front & £280 Per Month
Purchase, VAT, BHA registration, Transport from sales to stable and training up until 31/08/20.
Shine On Brendan is a 3 year old gelded son of Society Rock that was very unlucky not to win his maiden and handicap on the sand. He's very well handicapped off 71 (was 75) and is expected to improve a lot for changing stables. Some of his maiden form is very classy and he matched strides and went close to beating horses now rated in the 80's and late 90's. He really could be anything.
We did not think we had a chance of buying this fellow and a big thanks to Rebecca Bastiman (his new trainer) for going to the sales and securing his purchase. We are very excited about Shine On Brendan and expect him to be a top class 7 furlong handicapper.
Share Prices:
0.3125% Share £95 up front & £12.50 Per Month
0.625% Share £150 up front & £25 Per Month
1.25% Share £275 up front & £45 Per Month
2.5% Share £500 up front & £80 Per Month
5% share £900 up front & £150 Per Month
10% Share £1,700 up front & £280 Per Month.
Purchase, VAT, BHA registration, Transport from sales to stable and training up until 31/08/20.
Despite only buying these horses a few days ago, there has already been a lot of interest. If you are interested in buying a share, please get in touch by email: LBLhorses@gmail.com
Flood Defence
has kicked her season off in tremendous form by winning 2 races on the bounce at Musselburgh the past few weeks. She is looking like a very exciting horse for us this season with more to come on the flat and eventually over hurdles this winter.
Watch her winning her races at Musselburgh here:
Remember when the Supreme Court's conservative majority forced voters in Wisconsin to choose between protecting their health and casting their vote? Well, they just did it again.
The absentee ballot process in Alabama is burdensome under normal circumstances, but during a public health emergency it's
downright dangerous
. First voters must request an absentee ballot by mailing in a copy of their photo ID (assuming they have a photo ID; 11 percent of people don't). That means a trip to a public scanner for folks who don't have one at home.
On top of that,
voters have to get their absentee ballots signed by either two witnesses or a notary
-- at a time when we're supposed to be minimizing contact!
At the NDRC, we're fighting to make voting safe and accessible for
all Americans,
both in 2020 and beyond. But with Republicans spending $20 million to stop us, we need your help.
Pitch in for fair elections this year and every year.
Paid for by the National Democratic Redistricting Committee.
Thursday, July 16th
10:00 a.m. – 11:30 a.m.
As the pandemic continues to affect the U.S. and Brazil, going back to the workplace requires careful consideration of the various issues involved, including business, legal, and compliance. Join the next session of our webinar series for a discussion with a group of professionals deeply involved in advising businesses on these and other issues.
Please click here to download the speakers bios.

Moderator:

Isabel Costa Carvalho

, Managing Partner

,

Hogan Lovells Brazil

Speakers:

Shirley Meschke

, General Counsel

,

Pfizer Brazil


Oliver Petrovic

, Managing Director, Savills

Kelly Hardy

, Partner

,

Hogan Lovells

Thiago Sombra

, Partner, Mattos Filho

Registration Information



Free - Members
$15 - Non-members

Webinar information will be provided to registrants once registration has been completed.
Webinar organized by the Brazilian-American Chamber of Commerce in partnership with Hogan Lovells and Mattos Filho.
Introducing the Legislative Redistricting Board
All On The Line started this series to shine a light on the backroom board of five politicians who could have control of Texas' state legislative redistricting process ahead of important elections in 2022.
Last month
, we introduced you to Texas Lieutenant Governor Dan Patrick -- one of the most hostile opponents of universal vote-by-mail.
This month,
meet
indicted Texas Attorney General Ken Paxton
-- a man who said that a "fear of contracting COVID-19 does not amount to a sickness or physical condition" that warrants a mail-in ballot.
Who is Texas Attorney General Ken Paxton and why is he a threat to fair maps?
Ken Paxton may enforce the law in Texas --
but it seems like he has a hard time following rules himself.
Instead of making it easier for folks to vote during the pandemic, Paxton figured the best use of his time is to do the opposite.
His office is locked in legal fights to prevent the state from greenlighting rules that would make it easier for voters to cast their ballots. Worst of all? He said his office would prosecute those who cite the pandemic as a reason to vote-by-mail.
Did he not see the
numerous studies
that found that vote-by-mail doesn't benefit one party over the other?
Paxton's open disdain for making voting easier doesn't exactly qualify him to be a neutral arbiter of electoral maps drawn in a backroom with four other like-minded politicians. As we ramp up our outreach efforts to prevent unaccountable, ideological partisan politicians in states like Texas from manipulating the maps, can we count on you to chip in to help sustain our efforts for the battle ahead?
So why is A.G. Paxton on the LRB?
Great question. We're not super excited about partisan politicians gathering in a backroom to hammer out electoral maps, regardless of who they are. The concept is flawed as designed in Texas. But it's especially flawed when A.G. Paxton is one of the five folks in the room.
If conservatives like Paxton and his buddy, and fellow LRB member Lt. Gov Dan Patrick really cared about fraud in elections, they would start by making sure folks who oversee the electoral maps for the next decade aren't under charges of fraud themselves. Patrick, by the way, has even used mail-in voting himself.
Why does this matter?
If the board is convened to draw district lines, all five of its members will be conservative Republicans, just like A.G. Paxton and Lt. Gov. Patrick.
Putting them in a room to redraw the maps probably isn't going to work out well for the people of Texas. The board will likely try to manipulate the maps with no transparency, oversight, or accountability. It's a recipe sure to result in conservative control for at least another decade. Let that sink in -- then help us fight back!
All On The Line's success depends on educating people about these sorts of smoke-filled backrooms -- and stopping them early by bringing light and transparency into the process. Will you chip in to help us reach more people and let them know that the time to fight back in states like Texas starts now?
All On The Line is the grassroots advocacy campaign supported by the National Redistricting Action Fund. Support our work to end gerrymandering.
PAID FOR BY THE NATIONAL REDISTRICTING ACTION FUND.
Contributions or gifts to The National Redistricting Action Fund are not tax deductible.
HCampos Team