Tuesday, July 28, 2020




10:00 a.m. to 11:30 a.m.

Brazil faces an uncertain outlook marked by the COVID crisis and the lack of fiscal space to continue to expand government spending and lowering taxes to support the economy. Those policies enacted earlier in 2020 protected income more than employment and most analysts presume that income support will diminish in 2021. Will employment recover enough before then to sustain growth in consumption? If not, will exports and investment pick up the slack? Even if investment comes first from a rebuilding of inventories, would it fuel improved confidence? Is this return preconditioned on progress with structural reforms? Is the tax reform just sent to Congress sufficient to allay naysayers on reform? To what extent does the return of confidence depend more on the likely turbulent political outlook than on stimulus policies? And how will macroeconomic management proceed? How will the government adhere to the budget ceiling given spending pressures on an administration that has problems in Congress? To what extent can monetary policy substitute for fiscal stimulus? Are we close to an effective interest rate lower bound where lower rates become counterproductive given ensuing financial and exchange rate instability? These are some of the questions raised by investors with no easy answers. Our distinguished panel will help clarify the current context and outline possible answers.

Paulo Vieira da Cunha,

Partner, Verbank Consulting, LLC

Thiago Aragão, Partner, ARKO Advice

Fernando Honorato Barbosa,

Chief Economist, Bradesco

Drausio Giacomelli,

Head of Emerging Markets Research, Deutsche Bank Securities

Zeina Latif,

Consultant, Gibraltar Consultoria

Lisa Schineller,

Managing Director, S&P Global Ratings

Registration Information:

Members: Free

Non-Members: $20

Webinar information will be provided to registrants once registration has been completed.

Webinar organized by the Brazilian-American Chamber of Commerce in partnership with Bradesco.
| | |
| --- | --- |
| | Brazilian-American Chamber of Commerce, Inc. | 485 Madison Avenue, Suite 401, New York, NY 10022 | (212) 751-4691 |
The presidential election this year will be one of the most consequential of our lifetimes. There's no question Democrats
must
win.
But if we learned anything from the rampant map manipulation that took place in 2011 after massive losses for Democrats in 2010, it's that we can't get distracted from the incredibly important races taking place down the ballot.
Will you help the NDRC elect Democrats at the state and local levels?
See, no matter who wins the White House this year, if we can't get Democrats into office and at the table for redistricting, Republicans will manipulate the maps for
another
decade. That will mean
another ten years
of extreme Republican decision-making on all the issues we care about, including racial justice, health care, climate change, and many more.
I'm not saying the presidential race isn't important -- of course it is! But the NDRC is focusing on the strategic state-level races that will make all the difference for a fair redistricting. And while it takes billions of dollars to win the presidency, the outcome of these small races will be determined by
grassroots donations of $100, $50, even $5.
We've already proven the NDRC can tip the scales for down-ballot Democrats in 2017, 2018, and 2019.
But we must dig deep to finish the job in 2020.
We've already endorsed 169 candidates nationwide and invested in nine 2020 target states thanks to this community. But with Republicans still in control of redistricting in key states like Ohio, North Carolina, and Wisconsin,
we have to do more.
So Sula: Will you help ensure that Democrats are able to fight for a fair redistricting next year by making a donation now?
Paid for by the National Democratic Redistricting Committee.
Horse Racing Ownership Syndicate, Presented by Alex Gorrie.
JULY SALES UPDATE - 2 CRACKING NEW 3 YEAR OLD PURCHASES!
Clients that took up this great offer have had 3 winners from 4 bets in the last 2 days on the UK service that included nice best bet winners at 13/8 & 6/4 SP. Please consider getting involved either with this great offer or a share with one of our horses. Our 2 new horses are based in Yorkshire with Rebecca Bastinam and in Winchester with Chris Gordon. We also have shares available in 2 nice horses with Iain Jardine in Dumfries. For full details go to www.letsbeluckyracing.com
Please consider taking up our great membership offer that is far cheaper than the price we charged at any time in the last 35 years. We ended last year with 6 winning months from the last 8 and started this year with 2 big winning months from 3 and a fantastic winning Cheltenham week. I want every past client on the UK service to 01/12/20. TAKE UP THIS GREAT OFFER NOW - I think the only people that will regret you joining us will be the bookies!

We have 2 solid bets on the UK service today.

MAKE SURE YOU CALL FOR OUR BETS EVERY DAY

0906 150 1102 Calls will cost £1.50 per minute plus your telecom company access charge 18+ SP Spoke Help desk: 0333 2023390

LOOK AT THIS GREAT OFFER!!!!!!!!

Call for the bets today and email be the names of the selections to lexgorrie@gmail.com and you will get upgraded to the UK service to for 1 week at no extra charge.


CRAZY MEMBERSHIP OFFER - £40 FOR MEMBERSHIP TO 01/12/20.(GET THE NEXT DARK HORSE FREE)
You will never get the chance to join our membership again.
Send £40 by Paypal to marketing@racingview.com and we will email you all the UK bets. This is a great offer, don't miss it. If you have any questions please email lexgorrie@gmail.com.
MEMBERSHIP OFFER 2 (20 PLACES)


OR GET INVOLVED IN OUR NEXT DARK HORSE BET (THIS WEEK) AT £40 TO THE ODDS AND MEMBERSHIP TO THE UK SERVICE TO 01/12/20 AT NO EXTRA CHARGE. WE HAVE HAD 5 WINNING DARK HORSE BETS FROM THE LAST 7 WITH WINNERS AT UP TO 7/1 SP.

SIGN UP NOW! EMAIL LEXGORRIE@GMAIL.COM MAKE THE SUBJECT DARK HORSE PLEASEIt's exciting times for Let's Be Lucky, please consider getting involved.
For this year buying just 2.5% shares in any of our horses will get you the Gold service at no extra charge and if you buy smaller shares you will get the UK service.We have 2 bets on the UK service today, these
Please have a read through the details in our new bargain purchases that we expect to win this year.
We bought two cracking new horses at the July Newmarket Sales last Friday.
It turns out that Can't Stop Now was an 85,000 Gns yearling, should have been 2nd at Leicester off level weights with a horse now rated 97. That was also his final run for a handicap mark and they smashed him hard on his handicap debut with a hood on 1st time. Adam Kirby sat way too far back and clearly these tactics meant he stayed on well but had too much to do. I think he would have won his 2nd last race at Kempton if he had stalked the field and his 2nd that day has worked out well with the 3rd winning twice since and the winner going in again. After would bought these cracking horses on Friday our mare Flood Defence won the last race at Musselbugh.
Shine On Brendan and Can't Stop Now are fantastic purchases and the plan is to win with Shine On Brendan on the flat and win with Can't Stop Now over hurdles this year.

Chris Gordon was a massive help at the July sales and he's very happy with his purchase Can't Stop Now. Chris thinks he is the type to do well in juvenile hurdles and he also has bundles of improvement to come on the flat. We at Let's Be Lucky are very happy to have purchased a very nice horse for Chris Gordon and I hope you get behind him because Chris is not that far from Cheltenham and the other big jump tracks in the South.

We are very pleased to buy Rebecca Bastiman Shine On Brendan and if you look at his first 4 starts, they were well above average. He's an ideal replacement for Logi that will be sold in October. I enjoy working with Rebecca and one has to remember that we bet 2 Dark Horse winners from just 4 bets from the Bastiman stable at 9/2 from 11/1 and 7/1 SP in the last 3 years.
OUR NEXT DARK HORSE BET RUNS NEXT WEEK!


Please consider getting involved in our new purchases. We expected to get bargains at the sales but never in our wildest dreams did we expect to get two smashing young 3 years old geldings rated in the 70's. Both horses are fit and well and should be winning this year.

We put in the hard work studying potential LBL horses for the July sales at Tattersals in Newmarket. We had a strong list of horses who ticked all the boxes and passed all checks by our trainers. The tricky part is then trying to buy these horses within budget, in what is always a very strong market! We are delighted to report that got lucky on the day and managed to secure two of our main targets comfortably within budget...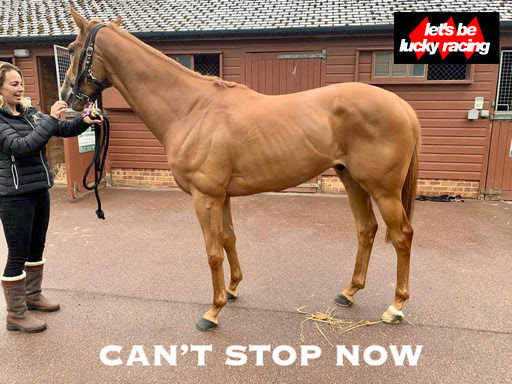 Can't Stop Now is a smashing 73 rated 3 year old gelding by Starspangledbanner (AUS) he has solid maiden and handicap form on the grass and sand and stays well, goes with cut in the ground and does not have many miles on the clock. He has a peak rating of 74 and could be anything.
A big thanks to Chris Gordon for buying us this very exciting young horse to go juvenile hurdling. We are delighted to have bought him such a great prospect. Can't Stop Now has a massive engine and we can't wait to see him hurdling this winter with a trainer that Let's Be Lucky rate highly.
Share Prices:
0.3125% Share £85 up front & £12.50 Per Month
0.625% Share £140 up front & £25 Per Month
1.25% Share £250 up front & £45 Per Month
2.5% Share £450 up front & £80 Per Month
5% Share £800 up front & £150 Per Month
10% Share £1,500 up front & £280 Per Month
Purchase, VAT, BHA registration, Transport from sales to stable and training up until 31/08/20.
Shine On Brendan is a 3 year old gelded son of Society Rock that was very unlucky not to win his maiden and handicap on the sand. He's very well handicapped off 71 (was 75) and is expected to improve a lot for changing stables. Some of his maiden form is very classy and he matched strides and went close to beating horses now rated in the 80's and late 90's. He really could be anything.
We did not think we had a chance of buying this fellow and a big thanks to Rebecca Bastiman (his new trainer) for going to the sales and securing his purchase. We are very excited about Shine On Brendan and expect him to be a top class 7 furlong handicapper.
Share Prices:
0.3125% Share £95 up front & £12.50 Per Month
0.625% Share £150 up front & £25 Per Month
1.25% Share £275 up front & £45 Per Month
2.5% Share £500 up front & £80 Per Month
5% share £900 up front & £150 Per Month
10% Share £1,700 up front & £280 Per Month.
Purchase, VAT, BHA registration, Transport from sales to stable and training up until 31/08/20.
Despite only buying these horses a few days ago, there has already been a lot of interest. If you are interested in buying a share, please get in touch by email: LBLhorses@gmail.com
Flood Defence
has kicked her season off in tremendous form by winning 2 races on the bounce at Musselburgh the past few weeks. She is looking like a very exciting horse for us this season with more to come on the flat and eventually over hurdles this winter.
Watch her winning her races at Musselburgh here: