Restructuring and Distressed Assets in Brazil:

Seizing Opportunities and Avoiding Disaster

Thursday, August 6

9:00 a.m. – 10:30 a.m. (NY Time)

The COVID-19 pandemic has significantly affected the operations of companies across various industries and their ability to service their debt and continue paying suppliers. Aviation, tourism and entertainment were the first industries to immediately suffer the consequences of social distancing and reduced demand and revenues, but other industries are bound to soon follow. Like other crises, the COVID-19-related drop in demand has resulted and will continue to condition in complex debt restructurings and opportunities to acquire strategic assets at discount prices. Our panel of prominent Brazilian-American legal and financial leaders will discuss how the lessons learned from successful and failed restructurings and distressed M&A transactions from the past can pave the way for U.S. and other foreign investors to properly protect their exposure to Brazilian companies in distress. The panel will also discuss how to capitalize on opportunities to make significant profits from a company's turnaround .

Daniel Laudisio, Partner, Cescon Barrieu


Fábio Rosas, Partner, Cescon Barrieu

Sam Aguirre, Partner, FTI Consulting

Pedro Jimenez, Partner, Paul Hastings

Jon Kellner, Partner, Paul Hastings

Registration Information



Members: Free

Non-members: $15

Webinar information will be provided to registrants once registration has been completed.

Webinar organized by the Brazilian-American Chamber of Commerce in partnership with
Cescon Barrieu.

| | | |
| --- | --- | --- |
| | Brazilian-American Chamber of Commerce, Inc. | 485 Madison Avenue, Suite 401, New York, NY 10022 | (212) 751-4691 | |
---
Brazilian-American Chamber of Commerce
•
485 Madison Avenue, Suite 401, New York, New York 10022, United States
•
2127514691
| | |
| --- | --- |
| | July 31, 2020 |
Global Ecommerce Sales Will Decelerate This Year; TikTok vs. America and TV Ads in Console Games
Ecommerce has been a bright spot among retail channels during the coronavirus, as consumers became reliant on digital transactions amid physical store closures and fear of infection. However, the impact on ecommerce retail spending has not been felt evenly across the world.
Asia-Pacific and North America have led the regional totals for both brick-and-mortar and ecommerce sales, followed by Western Europe. Due in part to China's dominance, Asia-Pacific has gained a significant lead in ecommerce with 62.6% share, over North America and Western Europe, who are expected to have shares of 19.1% and 12.7%, respectively.
While some regions experienced tremendous growth in certain sectors of retail, we have adjusted our ecommerce estimates down to $3.914 trillion, as the deceleration of global retail in 2020 has surely impacted overall global retail sales.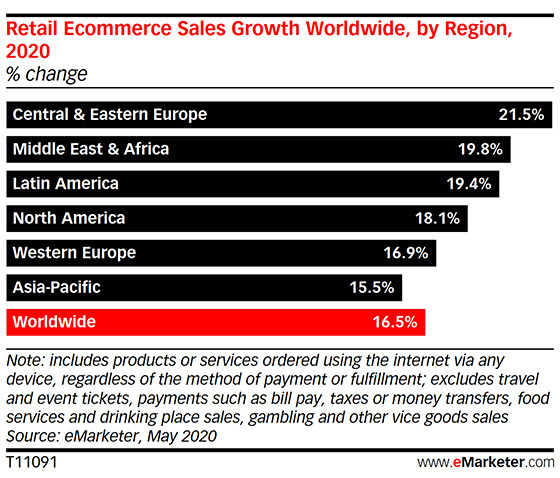 Read the full article.
What's essential in your martech stack?

Marketing technology accounts for 26% of total marketing spend - a big investment. Check out Yext's latest whitepaper, 5 Requirements of a Modern Martech Stack, to discover how to determine the utility of solutions in your martech stack and ensure your martech stack is ready to take on today's realities.

Read the Report
Face down with the dual threat of the e-commerce giants.

Stop losing both sales and digital ad dollars. Let's talk about Retail Media Networks strategies.

Get the tools you need to get started!
©2020 eMarketer, Inc. 11 Times Square, New York, NY 10036