A Brazilian-American Chamber of Commerce
Osorio Internacional, P.A. cordialmente lhe convidam para:
Palestrante:
Juliana Pavageau (
BIO
)
,
Osorio Internacional, P.A.
Suspensão de serviços consulares no dia 20 de março de 2020;
Suspensão de atendimento em pessoa em todos os locais do USCIS até dia 3 de junho de 2020;
Decreto Presidencial do dia 22 de abril de 2020;
Quais são os efeitos e quem afeta?
Previsões para o próximo ano devido à desaceleração do mercado americano
Quarta-feira, 27 de maio, 2020
I
nscreva-se online para receber a link do webinar
Brazilian-American Chamber of Commerce of Florida | P.O. Box 310038, Miami, FL 33231
Here's where things stand, Sula:
| | | |
| --- | --- | --- |
| | ➢ | Trump and the RNC are doubling their legal budget to fight Democrats' common-sense voting access proposals -- to $20 million. |
| | ➢ | Why? Trump said it himself: If people are able to vote safely, the GOP will LOSE. |
| | ➢ | And state-level Republicans are following his lead. |
Can you chip in now?
While Republicans are trying to force people to make an impossible choice between their health and their vote, Democratic governors are doing it right:
| | | |
| --- | --- | --- |
| | ➢ | California will send all voters mail-in ballots for the November election. |
| | ➢ | Michigan's Governor Gretchen Whitmer (who we helped elect) has taken steps to make sure that upcoming elections will be conducted mostly by mail. |
| | ➢ | And Kentucky's Andy Beshear issued an executive order allowing every registered voter to request a mail-in absentee ballot for the state's primary elections. |
At the NDRC, we're working hard to support no-brainer policies like these and stop the GOP from suppressing the vote during a public health crisis. Can you help by making a donation today?
Paid for by the National Democratic Redistricting Committee.
Keeping you up-to-date on the impacts of coronavirus on technology, marketing, and the digital economy.
Made Possible by Salesforce.
While retail businesses are still closed in many states, the ones beginning to reopen are doing business much differently with social distancing practices like curbside pickup. And consumers are shifting more to ecommerce out of necessity.

Ipsos and USA Today surveyed US adults in March and again in April, and found that in the second wave of the survey, 41% of respondents said they had shifted more of their shopping from physical stores to online—up from just 13% who had done so in the first wave. As marketers wonder which of these behaviors are likely to stick as "the new normal," it looks like many consumers expect to retain their new way of life long-term.

Read More
---
More essential coverage

---
The luckiest and unluckiest D2Cs, and how they'll adapt to survive
eMarketer principal analysts Andrew Lipsman and Nicole Perrin discuss the most fortunate and unfortunate D2C companies during this coronavirus pandemic, and what they are doing to survive it.

LISTEN TO THE PODCAST →
---
Salesforce Resource Center

Leading Through Change - Get insights and tools for managing your business through crisis.

LEARN MORE →
---
How brands can maintain trust with Canada customers during a crisis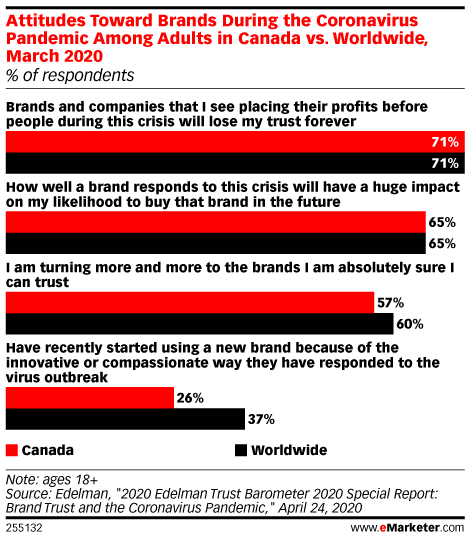 The actions of brands during a crisis can make or break long-term relationships with consumers, according to the "2020 Edelman Trust Barometer Special Report: Trust and the Coronavirus." Nearly three-quarters (71%) of consumer respondents in Canada said brands that prioritized profits over people would lose their trust forever.

READ MORE →
---
TV ad spend to fall even further as major advertisers look to pull out of upfront commitments in Q3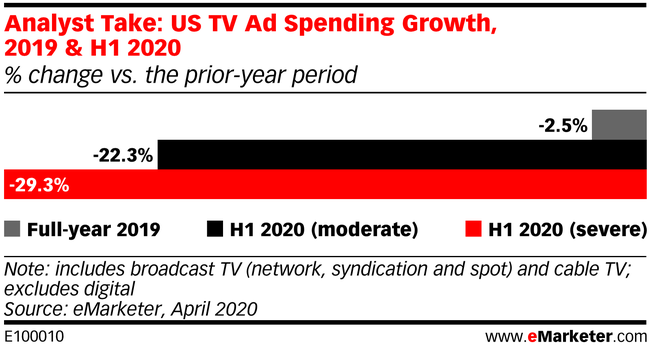 Major advertisers like Pepsi and GM are looking to pull out of upfront advertising contracts in Q3, according to the Wall Street Journal. That would leave the space even worse for wear after a rough H1: eMarketer's pre-pandemic forecast predicted TV ad spend would increase by 2% in 2020, but we now anticipate a drop of between 22% and 29% for H1 2020.

READ MORE →
---
See More Research




© 2020 eMarketer Inc.

eMarketer, 11 Times Square, New York, NY 10036