Sula,

Last June, when the Supreme Court ruled that federal courts could not put limits on partisan gerrymandering, they failed to stand up for democracy. In effect, their decision allowed rampant map manipulation by Republican legislatures to continue. As the Washington Post explained:


"[The Supreme Court's decision gives] new urgency to [Democrats'] efforts to win back state legislatures"

What does this mean for the NDRC? It means that our fight has gotten even tougher -- but it doesn't mean we're any less committed to securing fair maps for every American.

Sula, can you make a donation to help us take our fight for fair maps to target states all over the country?


As A.G. Holder said, since we can't rely on federal courts to stop partisan gerrymandering, we're going to have to go state by state.

That means we need more folks on the ground and more investments in electing fair-map candidates at the state level.

We told you after the Supreme Court ruled last year that we wouldn't give up -- and we won't, not until we've secured fair maps all over the country. Can we count on your donation to help us invest in state-level strategies to fight gerrymandering?






Paid for by the National Democratic Redistricting Committee.




You have two choices, Sula.


Choice 1:

You make a donation right now

to help us win our 2020 elections, which start

in five days

. Because of you, we're able to scale up our investments in our target states and Democrats win toss-up races, flip legislative chambers and governor's offices, and secure a seat at the table for redistricting --

setting us up for a decade of fairness in our elections.

Choice 2:

You focus only on the presidential race and assume someone else will think about state and local elections. Unfortunately, everyone else assumes the same thing. We aren't able to invest in key races. Democrats lose in places like Texas, Ohio, and North Carolina.

In 2021, Republicans manipulate the maps once again, pushing Congress and state legislatures to the right.

It's your choice, Sula -- and I hope you'll choose to invest in the down-ballot races that will make an enormous difference to the future of our country. Many of our 2020 races are balanced on a knife's edge, which means every cent you give will make a difference.

Will you make the first choice? Make a donation now to give Democrats the best shot of getting fair maps.






Paid for by the National Democratic Redistricting Committee.



| | |
| --- | --- |
| | January 26, 2020 |
Ecommerce in the UK Surpassed 25% of Retail Sales During the 2019 Holiday Season, Brick-and-Mortar Took a Hit
2020 Outlook: Mcommerce to surpass 50% of full-year ecommerce sales
Strong growth in online sales over the 2019 holiday season propelled the UK retail sector past a milestone. Ecommerce represented 28.2% of all holiday retail sales, surpassing the 25% mark for the first time. Total retail sales for the season amounted to £99.26 billion ($132.33 billion).
"Store closures are a big reason for shopper frustration and the subsequent shift to online as their preferred option," eMarketer vice president of forecasting Monica Peart said.
Ecommerce sales came partly at the expense of brick-and-mortar, which dropped 3.8% to £71.27 billion ($95.02 billion) during the 2019 holiday season. That's the largest percentage drop since we began tracking UK retail spending in 2010.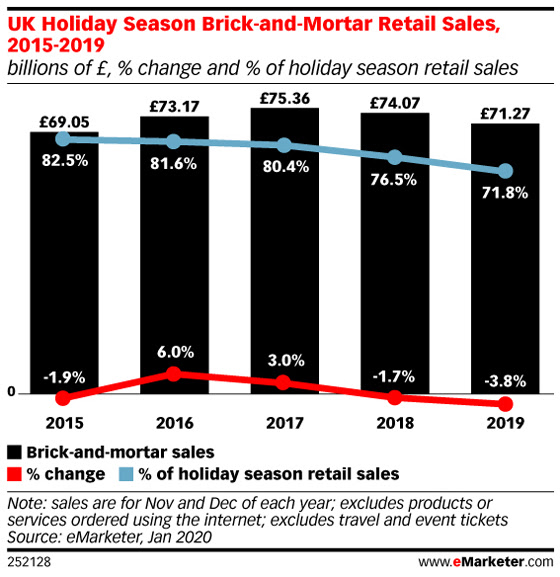 Read the full article.
Are You Maximizing the Impact of Your Customer Reviews?


Join eMarketer's live Tech-Talk Webinar "Five Strategies to Collect and Leverage Authentic Content." Learn from presenting sponsor PowerReviews as they share proprietary data and key insights to help you reduce cases of fraud, secure customer trust and increase your conversions by 82%.

Register Now
Takeaways from NRF 2020

eMarketer principal analyst Andrew Lipsman and executive editor of the eMarketer Retail Newsletter Rimma Kats share firsthand accounts of the National Retail Federation's annual trade show, focusing on retail personalization, returns, sustainability and more.

Listen In
©2020 eMarketer, Inc. 11 Times Square, New York, NY 10036