"eMarketer Retail FYI" is part of your subscription to the eMarketer Retail Newsletter.
---
© 2020 Shoptalk Commerce LLC. 605 3rd Ave, 26th Floor, New York, NY 10158
| | |
| --- | --- |
| | January 23, 2020 |
Ecommerce in the UK Surpassed 25% of Retail Sales During the 2019 Holiday Season, Brick-and-Mortar Took a Hit
2020 Outlook: Mcommerce to surpass 50% of full-year ecommerce sales
Strong growth in online sales over the 2019 holiday season propelled the UK retail sector past a milestone. Ecommerce represented 28.2% of all holiday retail sales, surpassing the 25% mark for the first time. Total retail sales for the season amounted to £99.26 billion ($132.33 billion).
"Store closures are a big reason for shopper frustration and the subsequent shift to online as their preferred option," eMarketer vice president of forecasting Monica Peart said.
Ecommerce sales came partly at the expense of brick-and-mortar, which dropped 3.8% to £71.27 billion ($95.02 billion) during the 2019 holiday season. That's the largest percentage drop since we began tracking UK retail spending in 2010.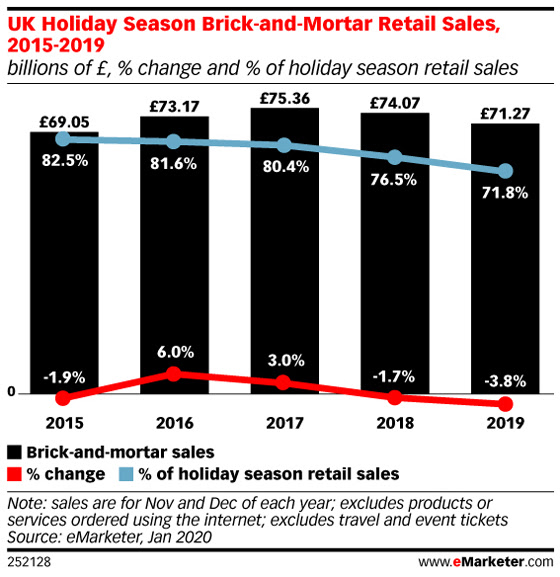 Are You Maximizing the Impact of Your Customer Reviews?


Join eMarketer's live Tech-Talk Webinar "Five Strategies to Collect and Leverage Authentic Content." Learn from presenting sponsor PowerReviews as they share proprietary data and key insights to help you reduce cases of fraud, secure customer trust and increase your conversions by 82%.

Register Now
2020 Outlook
Looking ahead to 2020, total retail sales (including auto sales) for the full year will grow 1.2% to £487.30 billion ($649.66 billion). That's the slowest growth rate since 2015, when it was down by 0.2%.
"Brexit has been looming over the retail market for two and a half years with mixed results," Peart said. "At times, consumers have reacted to the looming Brexit by spending more. In other cases, it's been a stalling force. What is clear about 2020 is that there will continue to be uncertainty around the implications of Brexit."
Ecommerce, which is making up an increasing portion of UK retail sales, will grow 8.9% this year to reach £114.26 billion ($152.33 billion). The UK will experience an ecommerce milestone this year, as mcommerce—online sales via tablets and smartphones—will represent half of all online sales for the first time. Mcommerce in 2020 will grow 15.3% to reach £58.05 billion ($77.38 billion). Not surprisingly, smartphones will continue to be the dominant device used for mcommerce, accounting for 62.5% of mcommerce sales this year vs. 36.7% for tablets.
Increasingly, smartphone commerce is the "everywhere and anywhere" shopping opportunity. A growing number of UK smartphone users are now buying a greater variety of products at higher frequencies with the device.

©2020 eMarketer, Inc. 11 Times Square, New York, NY 10036
I wanted to reach out at the beginning of the year to give you a look at the road ahead.
It's 2020, and that means it's a census year -- this process will determine so much for our country's future, including the next decade's electoral maps.
Historically, minority and underprivileged communities have been undercounted in the census. If this happens again, it could help politicians repeat the kind of gerrymandering we saw in 2011 -- gerrymandering that leads to politicians who don't always feel as responsive to the concerns of their constituents as they could be. So, it's up to us to make sure that every single American is counted in the census.
That's why I'm asking you to fight for fair maps and a fair census -- because this issue will impact the next decade of progress and beyond. Will you chip in to this fight?
If you've saved your payment information with ActBlue Express, your donation will go through immediately.
At this moment in our country, the All On The Line community is in a unique position to make a difference. We have the chance to restore democracy and put power back into the hands of people. Change is always within our reach -- but it's going to take the involvement of people like you holding politicians accountable to ensure an accurate census in 2020 and fair maps in 2021.
In Virginia, we've seen how fixing gerrymandering leads to progress. Last year, after a lawsuit forced the Commonwealth's racially gerrymandered districts to be redrawn, voters finally had the chance to elect politicians who represented their voices and listened to their concerns. And now, after years of inaction, the newly elected legislature is debating common-sense measures that could prevent gun violence.
We have the opportunity to create this kind of change all across the country. But to do it, we need your help.
Thank you for being engaged in this fight,
Barack Obama
All On The Line is the grassroots advocacy campaign supported by the National Redistricting Action Fund.
PAID FOR BY THE NATIONAL REDISTRICTING ACTION FUND.
A NIGHT FOR AUSTRALIA

THURSDAY, JAN 23 | 6:00 – 9:00PM | MAGLIA ROSA

Support the ongoing recovery efforts for the devastating Australian bush fires with Maglia Rosa + 42x21ATQ. Purchase tickets to the charity raffle for $5 and/or join for a night of food provided by Maglia Rosa + Hometown BBQ with beer provided by Big Alice.
| | |
| --- | --- |
| | Copyright © 2019 Industry City, All rights reserved. |