Please join us for our Annual Membership Luncheon, an opportunity for our members to come together in celebration of Brazil/U.S.ties.This year we are honored to have as our guest speaker a senior diplomat from the U.S. Department of State. The membership will also take a few moments during the lunch to vote on the renewal and election of Directors.

We look forward to seeing you there.

Kevin O'Reilly
Acting Deputy Assistant Secretary for Western Hemisphere Affairs
U.S. Department of State

Mr. O'Reilly is one of the most senior State Department officials managing diplomatic relations between the United States and the Southern Cone countries, including Brazil. He will comment on the activities and expectations of the State Department, as they coordinate with the Brazilian government to build a deeper and sustainable relationship between the two countries.

Registration and Networking

:

12:00 - 12:30 PM

Luncheon

:

12:30 - 2:30 PM

Note

:

Members of the Board of Directors will have a brief meeting and the official photo taken on the 9th floor, from 1:45 PM to 2:15 PM.

Chamber members unable to attend this event, please fill out the PROXY and send it back by fax (212) 751-7692 or email events@brazilcham.com.

Registration Information


Members - $100
Non-Members - $150

Platinum and Patron Members

are entitled to complementary admission.

Location

:
The University Club
Council Room
1 West 54th Street
(at Fifth Avenue), 7th Floor
New York, NY 10019

For security reasons, we are avoiding registrations at the door.


Business attire (jacket & tie) required by the club.



Please forward this notice to your colleagues and business associates.
Please disregard this message if you have already registered.

Cancellations must be faxed by noon on Friday, March 8th or you will be billed the full amount. Also, all registrations received after March 8th cannot be canceled and will be charged the full amount.
Thank you for your support.

Brazilian-American Chamberof Commerce, Inc. | 485 Madison Avenue, Suite 401, New York, NY 10022 | (212)751-4691
---
This email was sent to
sula_costa@yahoo.com
by
events@brazilcham.com
| | |
| --- | --- |
| | March 6, 2019 |
Data Science Is in Demand at Ad Agencies
Data science and analytics will be the technical skills most needed at digital ad agencies worldwide in the next two years, according to a poll by Marketing Land.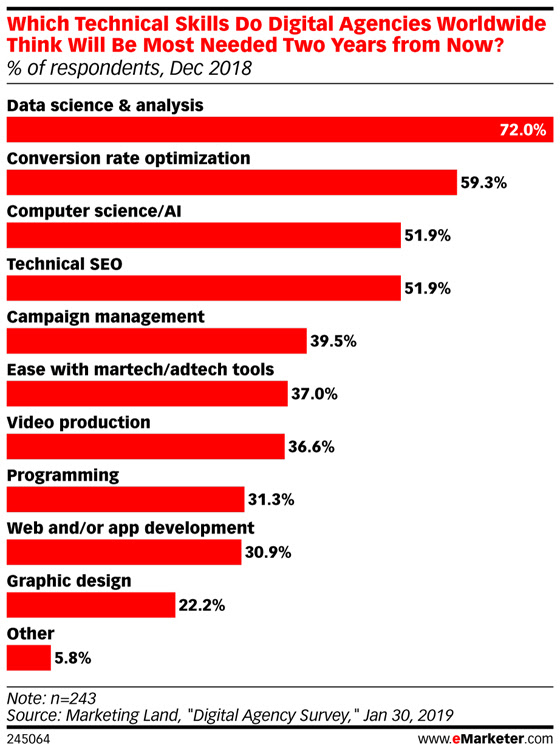 As digital ad buying becomes more automated and data-driven, marketers need to improve their data skill sets. In a survey by Blueshift and TechValidate, 54% of respondents said one of the main roadblocks preventing them from making better use of customer data was insufficient data analysis capabilities. And an Adestra and Ascend2 poll showed that 43% of respondents outsource their data management.
Read the Full Article
Changing Channels: A guide to the shifting TV landscape


The key to a successful CTV advertising strategy lies in using programmatic to get the most value from the otherwise complex and fragmented landscape. Find out how you can maximize the impact of your CTV strategy by working with multichannel partners that provide full data transparency, customization capabilities, and fair pricing models.

Get the guide
Which Marketers Are Upping Influencer Budgets?

Right now, 10% of marketing budgets are going to influencer marketing, but retail, fashion and beauty brands, and entertainment marketers are embracing the tactic by shifting significant spending and activity to Instagram Stories. This global report explores spending trends, the rise of microinfluencers and what the industry is doing to combat fraud.

Read the Executive Summary
©2019 eMarketer, Inc. 11 Times Square, New York, NY 1003
If you have problems viewing this email,
click here
to view it online.
Click here to forward this email.
What Happened
:
On Monday, March 4, 2019, U.S. Secretary of State Mike Pompeo notified Congress that the Trump administration is suspending for an additional 30 days legislative authorization for lawsuits related to Cuban-seized property. Beginning on March 19, 2019, however, the Trump administration will allow for the enforcement of Title III of the Helms-Burton Act against Cuban entities or sub-entities identified by the State Department on its List of Restricted Entities and Sub-entities Associated with Cuba ("Cuba Restricted List").
The Bottom Line: The Trump administration is actively considering allowing lawsuits under Title III of the Helms-Burton Act. It is the first U.S. administration to take the step of not waiving Title III, exposing Cuban entities and sub-entities that "traffic" in "confiscated" property to suit in federal court. Multinationals doing business in Cuba should analyze whether steps are necessary to mitigate potential lawsuits under Title III, as well as analyze the limitations of Title III's potential application. Claimants seeking to file Title III claims must serve a letter on the target companies to notify them of their intention to sue.
Hunton Andrews Kurth LLP

1111 Brickell Avenue, Suite 2500
Miami, FL 33131