This Week on NewJerseyNext.com
Copyright © 2019 NewJerseyNext.com, All rights reserved.
You are receiving this email because you opted in via our website.

Our mailing address is:
P.O. Box 663, Maplewood, NJ 07040
We are honored to have as our special guest speaker, Kevin O'Reilly, Acting Deputy Assistant Secretary for Western Hemisphere Affairs. Mr. O'Reilly is one of the most senior State Department officials managing diplomatic relations between the United States and the Southern Cone countries, including Brazil. He will comment on the activities and expectations of the State Department, as they coordinate with the Brazilian government to build a deeper and sustainable relationship between the two countries.

Of course the Annual Membership Luncheon is also an opportunity for our membership to come together in celebration of a successful year. We will take a few moments during the luncheon to elect and re-elect Board Members. The Chamber welcomes any suggestions members may have for directors, officers and committee chairpersons. We look forward to seeing you there.

Kevin O'Reilly

Acting Deputy Assistant Secretary for Western Hemisphere Affairs U.S. Department of State

Registration and Networking

:

12:00 - 12:30 PM

Luncheon

:

12:30 - 2:30 PM

Note

:

Members of the Board of Directors will have a brief meeting and the official photo taken on the 9th floor, from 1:45 PM to 2:15 PM.

Chamber members unable to attend this event, please fill out the PROXY and send it back by fax (212) 751-7692 or email events@brazilcham.com.

Registration Information


Members - $100
Non-Members - $150

Platinum and Patron Members

are entitled to complementary admission.

Location

:
The University Club
Council Room
1 West 54th Street (at Fifth Avenue), 7th Floor
New York, NY 10019
| | | |
| --- | --- | --- |
| | Thank you for your support. | |
---
Brazilian-American Chamber of Commerce
•
485 Madison Avenue, Suite 401, New York, New York 10022, United States
•
2127514691
| | |
| --- | --- |
| | February 28, 2019 |
Still Early Days for TV Ad Innovation
Earlier this week, 3,000 marketing industry professionals gathered for LiveRamp's RampUp conference at the Fairmont Hotel in San Francisco to discuss the latest marketing technology developments. One theme that stood out was that while marketers are making headway with advanced TV, it's early days with TV ad innovations.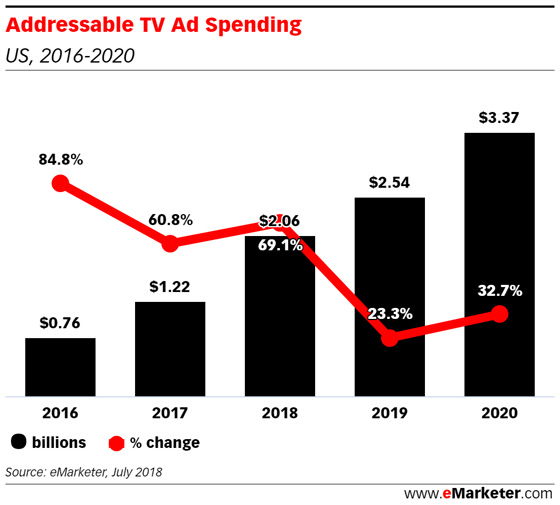 We predict that $2.54 billion will be spent on targeted, addressable TV ads in the US this year. But addressable accounts for just 3.7% of total TV ad spending.
Read the Full Article
Does Your Digital Strategy Need a Reality Check?


Individual companies—and the industry as a whole—are at different stages of the digital transformation journey. Test your knowledge with the Digital Transformation Quiz, presented by Salesforce, to see where you stand, and receive a Slideshow with expert insights and data to round out the picture.

Take the Quiz
©2019 eMarketer, Inc. 11 Times Square, New York, NY 10036

eMarketer Daily is published by eMarketer, Inc.