New York International Make-Up Artist Trade Show
"International Make-Up Artist Trade Show"
The International Make-Up Artist Trade Show, or IMATS, is the make-up world's biggest gathering. Thousands of make-up artists, exhibitors and enthusiasts discuss, display and collect the best the industry has to offer. Make-up pros from fashion and film (including Oscar, BAFTA and Saturn award winners) provide education and demonstrations at IMATS, and new products often debut there. IMATS also features a make-up museum and the Battle of the Brushes student make-up competitions, where international make-up students race to create winning looks.
MUSIC
More information:
https://www.latinew.com/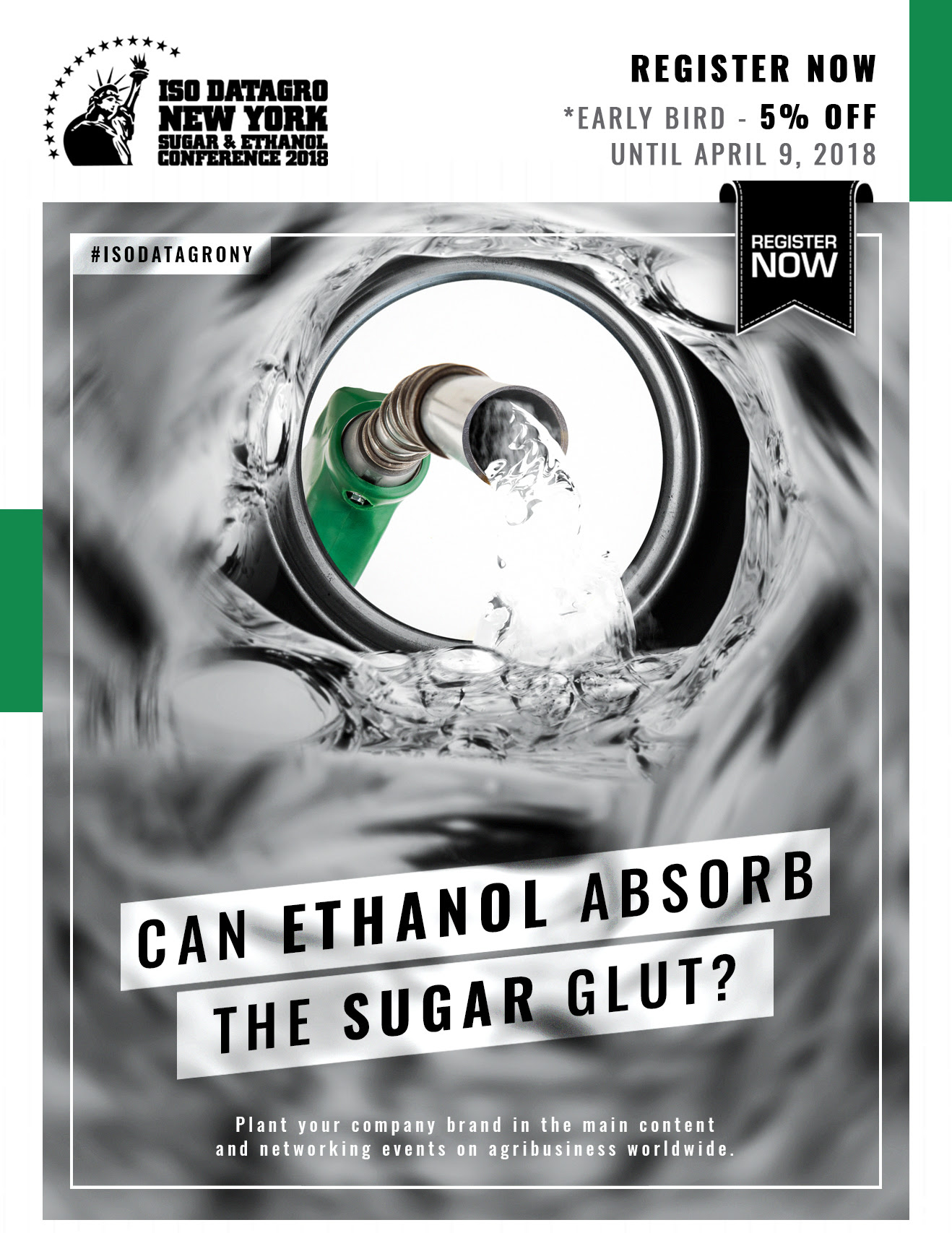 India and Thailand have been surprising the global sugar market with outputs way above the expected in 2017/18 (Oct/Sep). Therefore, together with the European Union, there is a growing concern about the increase of sugar supply in the Northern Hemisphere. On the other hand, an output reduction is expected in Brazil's Central-South in 2018/19 (Apr/Mar) as a result of the increased mix for ethanol.
However, oil prices remain steady, which will likely help to maintain gasoline prices and consequently ethanol prices in Brazil in 2018, causing Brazilian plants to focus their efforts even further in biofuel production, specially during the first half of 2018/19 crop.
In this scenario, the question is to what extent may sugar find in the ethanol market the necessary support to drive a new price recovery stage?
Don't miss the last days of discount - 5% off until April 9. Join ISO DATAGRO NY SUGAR & ETHANOL CONFERENCE 2018 and find this and other answers about the future of the Sugar and Ethanol Industries.
---
eMarketer is pleased to moderate a special presentation with Arpita Neelmegh, product marketing manager at Iterable, who will break down one of the fundamental tactics that leading companies are employing to truly boost sales and cultivate customer relationships—sending personalized messages across multiple channels.

Join our live, interactive webinar where you'll learn what some of today's top brands are doing to achieve omni-channel marketing success. You'll come away with practical and actionable information, including:

Tips for creating personalized content that can be utilized throughout the entire buyer journey
Steps you can take to provide your audiences with consistent, seamless omni-channel experiences
Best practices for delivering welcome, re-engagement and promotional campaigns across multiple channels
Please reserve your seat today. Our Tech-Talk Tuesday will take place on Tuesday, April 17, at 1:00 PM ET. We hope you can attend, but if you sign up and can't make it we'll send you a link to view the deck and the recording the day after the webinar.

Up-to-date information on the latest financial news. View online.
Manufacturing and Inflation Data Signal Economic Improvement

Overview: While the stock market was extremely volatile over the past week, mortgage markets were quiet. The reaction to the economic data and to the news on tariffs was muted, and mortgage rates ended the week nearly unchanged.

On Wednesday, China announced potential new tariffs on 106 U.S. products in retaliation for the recent tariffs the U.S. said it would impose on some Chinese products. Some people think that the threat of new tariffs from the Trump administration is just a negotiating tactic to help obtain better terms of trade. The decision on whether to actually implement the new tariffs will not take place for many weeks. Increased concerns about an escalating trade war had a strongly negative impact on the stock market.

On a more positive note, recent data revealed that the manufacturing sector continues to operate at strong levels. While it was a little lower than last month, the Institute for Supply Management (ISM) Manufacturing Index was at 59.3 in April. Readings above 50 indicate an expansion in the sector. The ISM Services Index demonstrated similar strength.

The most recent inflation data showed the expected slight increase. In February, the core Personal Consumption Expenditures (PCE) Price Index was 1.6% higher than a year ago, up from an annual rate of 1.5% last month. This was the highest level since May 2017. Core PCE is the inflation indicator favored by the Fed, which has a stated target annual rate of 2.0%.

Week Ahead

Looking ahead, the monthly Employment Report will be released on Friday. This data on the number of jobs, the unemployment rate, and wage inflation will be the most highly anticipated economic data of the month. The Consumer Price Index (CPI) will come out on April 11. CPI is a widely followed monthly inflation report that looks at the price change for goods and services. The minutes from the March 21 Fed meeting also will come out on April 11. These detailed minutes provide additional insight into the debate between Fed officials about future monetary policy.
| | | |
| --- | --- | --- |
| | Contact me to discuss how I can help your clients with their mortgage needs. | |
Ma
ke the Move
From Renting to Buying
Please join Triplemint and Elise Leve of Citizens Bank for an interactive step-by-step seminar on taking the leap from renting to buying in NYC.
This seminar is designed to give practical, applicable information and advice on the process of buying your first home in NYC. We'll cover the pros and cons of renting versus buying, and the financial considerations that you'll have to weigh up. You'll leave with a greater understanding and familiarity with the first-time homebuying process and how to effectively transition from renting to buying.
Thursday, April 19th, 6-7.30 PM
Rent vs. Buy Seminar, followed by Q&A.
Light refreshments and networking to follow.
Triplemint is a software-powered real estate brokerage making it easier for people to buy, sell, and rent apartments. From online search of the most up-to-date and accurate apartment inventory to brokers bonused on member satisfaction, Triplemint's mission is delivering a smarter, simpler, and more personalized real estate experience to people everywhere.
The Makeup Show-New York
"International Cosmetics and Beauty Products Industry trade fair."
The Makeup Show-New York is an event promoting cosmetics and beauty industries worldwide. The event includes over 800 brands, more than 3 conferences, astounding 8 live stages, 6 seminar programmes conducted by professionals and 2 make-up and nail championships, making this event a must-attend event for over 33,000 professional visitors. The event involves a wide variety of cosmetics and spa industries demonstrating their latest discoveries and inventions in the field of cosmetics. The event is attended by all top cosmetic industry professionals from all corners of the world. The event also provides an immense opportunity to network and expand businesses worldwide and compete with top most cosmetic industrialists.