Digital marketers see the potential for blockchain to put a serious dent in ad fraud—which will cost brands $19 billion worldwide this year, according to Juniper Research.
| | |
| --- | --- |
| | March 26, 2018 |
DMP Playbook for Marketers: Tips & Tricks for Success


Whether you already have a Data Management Platform and are looking for some quick wins, or are still considering a DMP and its benefits for your data-driven campaigns, this playbook will guide you on the path to success. Learn about DMP use cases, how to build your team, and tips & tricks for success.

Download now.
Can Snapchat Crack Social Commerce?

Marketers are still using social media to influence purchase decisions and drive sales, but getting consumers to actually complete a purchase while on a social property has proven to be exceptionally difficult–and is no longer a top priority for most. In the latest episode of eMarketer's "Behind the Numbers," we dig into Snapchat's evolving approach to ecommerce, and how it might differ from previous attempts.

Listen In
Data Feed
Brands and Culture:
Brand activism is on the rise, according to a survey of marketing decision-makers in the US and UK by Bynder and OnBrand. About 80% of respondents said cultural issues will play more of a role in their branding and marketing strategies this year than in 2017. The uptick in brands becoming more involved in responding to current events reflects the increasing politicization found in the US and UK, where brands get pulled into allying or distancing themselves from controversial statements made by public figures.
BOPUS Remains Popular:
According to a November 2017 study by International Data Corporation (IDC), 58% of retailers in North America said they offer buy online, pick up in-store (BOPUS) as an option. Only 11% of respondents said they had no plans to implement this form of fulfillment.
More Data
©2018 eMarketer, Inc. 11 Times Square, New York, NY 10036
eMarketer Daily is published by eMarketer, Inc.
International Plastic, Packaging & Print Asia Exhibition
In a blog post published March 20, the Federal Trade Commission (FTC) cautioned against anticompetitive information sharing in the lead-up to closing a transaction.
The FTC has long held that information sharing between competitors can harm competition in violation of the antitrust laws. This is true even when two companies are in the process of merging. The FTC blog post offers a clear reminder that the obligation to act as competitors does not end until the transaction has actually closed. Even if the applicable waiting period under the Hart-Scott-Rodino Act has expired, premerger information exchanges can raise antitrust risks under Section 1 of the Sherman Act. Until consummation, the parties are separate entities and generally should not share competitively sensitive information.
Artexpo New York
19-22 Apr 2018

"International Art & craft Exhibition in New York."




Artexpo New York is a 4 day event being held from 19th to the 22nd April 2018 at the Pier 94 in New York, United States Of America. This event showcases products like brings the biggest publishers, galleries and collectors face to face with hundreds of established and emerging artists. In short, we're the world's largest fine art marketplace etc. in the Gifts & Handicrafts industry.
What Happened

:
The White House released an Executive Order prohibiting all transactions relating to, providing financing for, or other dealings in, cryptocurrencies issued by the Government of Venezuela on or after January 9, 2018.
The Bottom Line

:
In a continued effort to limit the Government of Venezuela's access to the United States' capital markets, the Trump administration has prohibited all activities relating to Venezuelan cryptocurrencies, further expanding the limitation on debt and equity financing available to the Government of Venezuela commenced in Executive Order 13808 of August 24, 2017.
China Import and Export Fair - Phase II

23rd - 27th April 2018
China Import and Export Fair(Canton Fair Complex), Guangzhou, China

Greetings from China Import and Export Fair - Phase II - Largest trade fair for imports and exports.

China Import and Export Fair - Phase II is the largest trade fair for imports and exports. The event provides importing and exporting of various foreign goods and services from all corners of the world and aims to maintain a healthy and friendly relationship with countries worldwide. The event also provides an immense opportunity for all businesses and professionals to interact with one another and expand their networks worldwide by networking with officials from different parts of the world and suggesting them the benefits of their business. It exhibits over 150,000 kinds of quality Chinese products and overseas commodities with distinctive features from various sectors like Consumer Goods, Home Decorations, Gifts. It will serve as a platform for exhibitors to demonstrate their strengths, uplift their brand images and exchange information for exhibitors from home and abroad


| | | |
| --- | --- | --- |
| Venue | : | China Import and Export Fair(Canton Fair Complex), Guangzhou, China |
| Date | : | 23rd - 27th April 2018 |
| Timing | : | 10:00 AM-06:00 PM |
| Visitor Entry | : | By Invitation Only, Click here to Pre-Register Online |
Exhibitor Profile
Vendors from all across the globe will gather here to showcase products and services such as a wide range of consumer goods, home decorations, gifts and many more related products and services.
The China Import and Export Fair - Phase II Team
Affordable Art Fair New York
"The International Spring Art Fair In New York."
Affordable Art Fair New York is an art event. The event presents the latest trends in contemporary art for all tastes and all budgets. The event includes over 70 exhibitors and over 300 contemporary artists. This fall fair will showcase 48 regional, national and international galleries including Affordable Art Fair mainstays, Manifold, Art Angler, Tolman Collection of Tokyo, and Rebecca Hossack Gallery, as well as highly anticipated newcomers such as HOV, Eye Buy Art and Galerie Youn. This five-day event is dedicated to fostering an inspiring and enjoyable atmosphere where a diverse array of affordable, contemporary art by living artists is available.


New York International Auto Show
Jacob K. Javits Convention Center,
New York
,
USA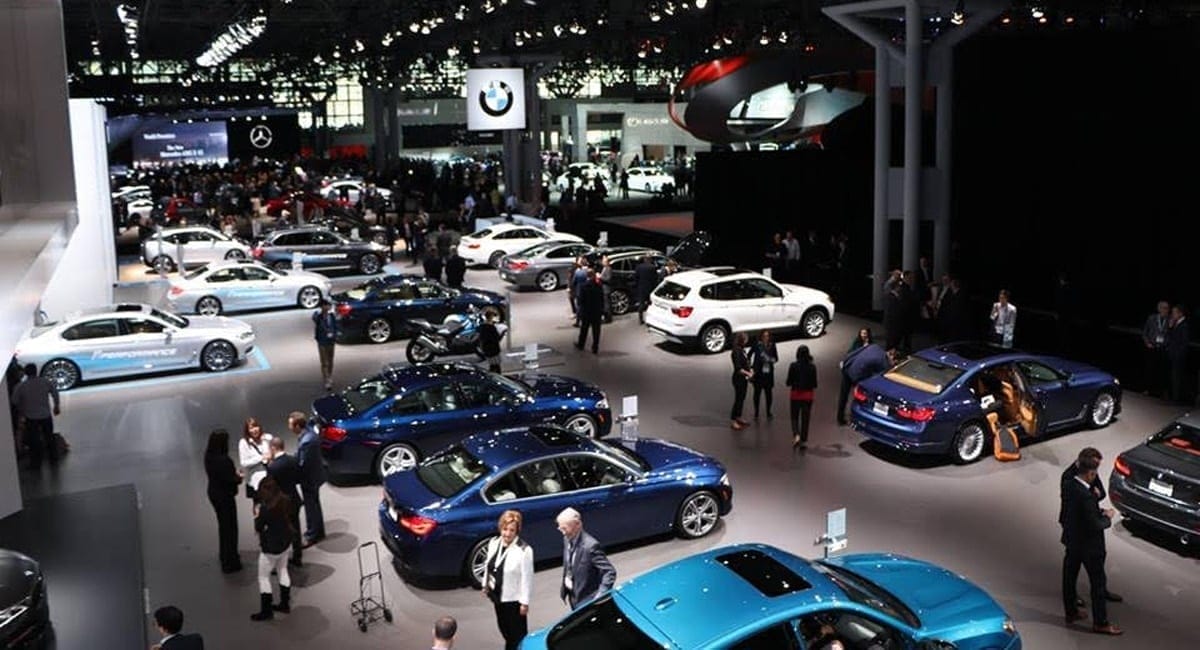 "Today's Vehicles & Tomorrow's Solutions for International Auto Show"
New York International Auto Show is an event for automobile and automotive industries. The event enables you to discover more than 1000 vehicles and everything about latest technologies in the topics safety and innovation. This event shows products like shows an incredible collection of cutting-edge design and extraordinary innovation. More than four floors of displays from the world's automakers will feature the newest vehicles and latest futuristic concept cars and many more etc. in the Auto industry.


China International (Xiamen) Seafood Expo


China International (Xiamen) Seafood Expo is a 3 day event being held from 20th to the 22nd April 2018 at the Xiamen International Conference & Exhibition Center (XICEC) in Xiamen, China. This event showcases products like wide range of products and services such as aquatic processing products, like dried fish slices, fish cakes, fish lines, fishery equipments, fishing boats, equipment for aquatic breeding, leisure fishing products, aquatic decorations, underwater projector equipments, fishing art books to name a few etc. in the Meat, Poultry & Seafood industry.
Aipad Photography Show
Piers 92/94,
New York
,
USA
Aipad Photography Show is a 4 day event being held from 5th to 8th April 2018 in New York, United States Of America. This event showcases products like provide a wide range of services to the public, such as exhibitions, appraisals, expert opinions and consultations etc. in the Photography & Imaging industry.