http://conteudos.datagro.com/mkts_datagrograos_perspectivasoja2018?utm_campaign=mkts_datagrograos_perspectivasoja2018&utm_medium=email&utm_source=RD+Station
Up-to-date information on the latest financial news. View online.
Central Bank Meetings

Overview: While the stock market experienced little change over the past week, mortgage rates continued to increase, reaching the highest levels in years. The main influence was a comment from a central bank official in Europe. The U.S. economic data and the Federal Reserve meeting caused little reaction.

At its meeting late last week, the European Central Bank (ECB) made no policy changes, as expected. The ECB also provided very little new information in terms of guidance about future policy, and the impact on U.S. mortgage rates was minor.

On Monday

, however, an ECB official said that the ECB should end its bond purchases as soon as possible after the current program ends in September. The possibility of reduced demand for bonds caused global yields to rise, including U.S. mortgage rates.

Like the ECB meeting, no surprises emerged from Wednesday's U.S. Fed meeting. Expectations for the pace of future federal funds rate hikes remained nearly the same following the meeting. Jerome Powell will officially take over as Fed Chair during the first week of February.

The major economic data released over the past week was roughly neutral for mortgage rates and had little impact. The core Personal Consumption Expenditures (PCE) Price Index, the inflation indicator favored by the Fed, remained at an annual rate of increase of just 1.5%. This is well below the Fed's target level of 2.0%.

Gross domestic product (GDP), the broadest measure of economic growth, increased 2.6% during the fourth quarter of 2017. This was less than expected, but the shortfall was completely due to a decline in inventories. Investors generally view changes in inventory levels simply as a transfer of growth between quarters rather than as an indicator of the strength of the economy. They focused much more on the strong consumer and business spending during the fourth quarter.

Week Ahead

Looking ahead, the Institute for Supply Management (ISM) Manufacturing Index will come out on Thursday. The key monthly Employment Report will be released on Friday. As usual, this data on the number of jobs, the unemployment rate, and wage inflation will be the most highly anticipated economic data of the month. The ISM Services Index will come out on

February 5

. The efforts to reach an agreement to fund the government after

February 8

also could influence mortgage rates.
| | |
| --- | --- |
| | Contact me to discuss how I can help your clients with their mortgage needs. |
El jurado de la Convocatoria RADAR está formado por 6 galerías y espacios culturales españoles interesados en descubrir nuevos talentos para exponerlos en sus espacios.
La Convocatoria RADAR está abierta a todo tipo de artista, de cualquier nacionalidad, residentes en cualquier país, sin límite de edad, ideología, técnica y otras calificaciones. El premio anima a participar a artistas de todos los niveles.
Cada una de las 6 galerías seleccionadoras escogerá al artista que más le interese y le ofrecerá una exposición individual en su propio espacio, que podrá ser el preludio de una colaboración profesional duradera. Las galerías escogerán libremente y con completa autonomía su ganador y tienen la obligación de seleccionar a artistas con los cuales no hayan tenido nunca ninguna relación profesional previa.

Además, la comisión de comisarios seleccionará a 3 artistas ganadores que recibirán un premio en metálico: 800 euros para el primer clasificado, 400 para el segundo y 200 euros para el tercer clasificado.

| | |
| --- | --- |
| | February 4, 2018 |
eMarketer Roundup: Driving Customer Engagement

Marketers are learning that a key driver of winning customer acquisition, increased loyalty and lifetime value rests on the smart and innovative uses of data and analytics. Download this eMarketer Roundup, presented by IBM, to better understand data-driven marketing's impact on customer engagement.

Receive my copy.
Managing Multiple Priorities, Projects and Deadlines
FEBRUARY 2018 NEWSLETTER - ARTS & CULTURE
"Tarsila do Amaral: Inventing Modern Art in Brazil"
FEB 11 - JUNE 3
Museum of Modern Art (MoMA)
CINEMA
"António One,Two,Three" + "Gabriel and the Mountain"
FEB 28 - MARCH 3
Film Society of Lincoln Center - Festival Neighboring Scenes
MORE INFO
"New York New Music Ensemble: New Works from Brazil"
FEB 21 @ 7:00 PM
Americas Society
MORE INFO
"In the Intense Now", by João Moreira Salles
JAN 31 - FEB 13
Film Forum
MORE INFO
"Existence" with Rodrigo Moreira
FEB 2 - MAR 9
Opening: Feb 2 @ 6:00 PM - 9:00 PM
b [x] Gallery (203 Harrison Place)
MORE INFO
"Luis Simas" and guests
FEB 8 @ 6:00 PM
Birdland
MORE INFO
Mario Adnet: Jobim Jazz Live
FEB 9 - FEB 11

@ 7:30/9:30 PM
Dizzy Club Coca Cola
MORE INFO
Gaia Wilmer Septet


FEB 18 @ 8:00 PM

/9:30 PM
Cornelia Street Cafe
MORE INFO
TAP &TOM with Felipe Galganni - Tap Dance + Bossa Nova
FEB 23 - 24
Theater at 14th Street Y
MORE INFO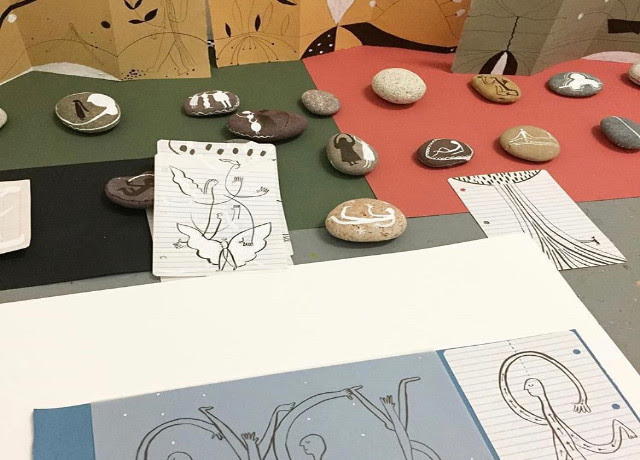 Sandra Jávera's Open Studio curated by AnnexB
FEB 2 @ 6:00 PM - 9:00 PM
203 Harrison Place, Studio 311
MORE INFO
"Araby", by Affonso Uchoa & João Dumans
FEB 4 @ 3:00 PM
MoMI - Cinema Tropical Festival
MORE INFO
Pop up "The Head is Round" curated by Gisela Gueiros
FEB 9 @ 7:00 PM - 10:00 PM
Lazy Susan Gallery (
191 Henry St
)
MORE INFO
Sonyc plays Villa -Lobos
FEB 12 @ 7:00 PM
Americas Society
MORE INFO
"Híbridos, the Spirits of Brazil", Vincent Moon / Priscilla Telmon
FEB 19 @ 7:00 PM
Museum of Modern Art (MoMA)
MORE INFO
"Quarta Literária - Mulheres Extraordinárias"


FEB 28
Brazilian Endowment Arts (BEA)
MORE INFO
Exhibition

"

José Leonilson: Empty Man

"
SEP 27