The Deferred Action for Childhood Arrivals program (DACA) provides hope, opportunity, and protection for immigrant youth. Thanks to DACA, kids who have always known this country as their home can live, work, and go to school without the fear of deportation or being separated from their families.
But the administration is considering ending DACA, sowing fear and uncertainty for these young people who are American in every way but on paper. DACA recipients make huge contributions to our country -- they are becoming teachers, joining our armed forces, and strengthening our economy. Turning our backs on these youth is misguided, cruel, and violates our core values as Americans. We must stand up to defend DACA and the nearly 800,000 recipients who benefit from the program.
Tomorrow, August 15th, OFA is joining forces with United We Dream to protect DACA and immigrant youth.
Check out the details and say you'll attend:
What:
Defend DACA Day of Action
Where:
725 5th Avenue
New York, NY 10022
When:
Tuesday, August 15ᵗʰ
5:00 pm
Jack Shapiro
Director of Policy and Campaigns
Organizing for Action

​​Carta Convite
A

Associação Catarinense de Futsal

com o apoio institucional da SC ESPORTES, tem o prazer de convidá-lo a participar da

COPA DO BRASIL DE FUTSAL 2017

que será realizado em Florianópolis/SC de

13/12 a 17 de Dezembro de 2017

. O evento será realizado nas seguintes categorias:
Sub - 06, 07, 08, 09, 10, 11, 12, 13, 14, 15, 16, 17

Masculino e Feminino Livre.
Vagas limitadas a 12 equipes, com a inscrição mínima de 10 pessoas.

Forma de Pagamento será através da empresa

Blueticket,

em até 10 vezes no cartão de crédito, para as equipes fora do brasil, conseguirão pagar através de Cartão Internacional; http://www.blueticket.com.br/? secao=Eventos&tipo=45&regiao_ atual=SC

Será concedido a premiação de Certificado, Troféu e Medalha para os 1ª, 2ª, 3ª e 4ª colocado,

Todos os participantes receberam a título de participação Certificado e Medalha,

Pacotes de Hospedagem e Alimentação para os dias do evento,

Ginásios, Hoteis e Restaurantes bem localizados,

Arbitragem Educativa nas categorias Sub - 06/07/08/09,

Premiação diferenciada para equipes vencedoras do evento,

Filmagem personalizada dos jogos com pacotes diferenciados,

Fotografia individual e personalizada, com pacotes fechados para as equipes,

Pacotes com ida ao Parque Beto Carrero World

Jogo dos Pais e Mães,

Participaram os seguintes estados Brasileiros:

Acre (AC), Amazonas (AM), Ceará(CE),Distrito Federal (DF),Espírito Santo (ES),Goiás (GO),Maranhão (MA),Mato Grosso(MT),Minas Gerais (MG),Paraná (PR),Rio de Janeiro (RJ),Rio Grande do Norte (RN),Rio Grande do Sul (RS),Santa Catarina (SC),São Paulo (SP),Sergipe (SE)

Participaram os seguintes Países: Argentina, Paraguai, Uruguai, Bolívia e Colômbia,

Show Abertura com jogo inaugural,

Chancela da F.I.E.P - FEDERAÇÃO INTERNACIONAL DE EDUCAÇÃO FISICA,
​

​Contatos 55 48 98419-9393 WhatsApp Profº André Luiz Melo
| | |
| --- | --- |
| | |
Brazil Week in Newark 2017
Lavagem
da
Rua
46, Brazilian Cultural Parade and Carnival
Brazil Week is a free event which promotes the Brazilian culture, tourism and business in the United States through a series of activities that take place annually in the last week of August.
Brazil Week is in its ninth year, seven years in New York and two years in Newark giving lectures, workshops, art exhibitions, cultural presentations, fashion shows and business round tables.
Over the years, Brazil Week has given various Brazilian artists the opportunity to exhibit their diverse works, such as photography, films, the plastic arts, poetry, theater, fashion, music and dance performances.This year Brazil Week celebrates its third year in Newark with a tribute to the Brazilian
woman. This
year the Brazilian Day Festival event, brings to Newark the traditional
Lavagem
da
Rua
46, a cultural parade.
The event will also feature displays of the typical clothes of ethnic folklore of these states through artistic and cultural exhibitions, musical performances, dance, lectures and workshops.
August 28 to September 30.
Expo Brazil at The Newark Public Library
Celebration of Brazilian Carnival
The greatest show on Earth ! Brazilian Carnival comes to The Newark Public Library with a display of dazzling luxurious Costumes from different States of Brazil, a warm up for the Lavagem da Rua 46 Brazilian Cultural Parade and Carnival in all its glitz and glamor, and the Newark Brazilian Day Festival along Ferry Street. September 3, 2017.
August 29 to September 29.
Brazilian Cultural Workshop Series for kids
At The Newar
k Public Library
Workshops will begin on August 29 and continue every Tuesday in September.
It's a special program for kids where they will be introduced to Brazilian arts and crafts, music and dance.
This Project is geared towards educating young people through promoting a greater awareness of richness of Afro Brazilian culture and traditions.
This Series for Kids also offers light exercises in physical fitness.
Address: 5 Washington Street
September 01,08,15, 22 and 29
Brazilian Film Screening Series
Every Friday in September a different movie genre.
Action, Comedy, Drama and Romance.
Debate and a pocket show immediately follows each movie.
Music performance by Tony Mola, Joana Nova Iorque,
Alexandre Cavalcante
,
Roberto Trevisan and surprise guests.
BR Day 2017 - Camisetas VIP Ja à Venda!
2017 BR Day VIP Shirts NOW on Sale!

---

www.BRAZILIANDAY.com

Incluído na compra:
VIP Shirts Include:
~ Acesso a área do backstage
~ Lanches e Bebidas a Vontade
~ Camarote Exclusivo para assistir o show
~ Access to VIP Backstage area
~ All you can eat and drink
~ Exclusive VIP area to watch the concert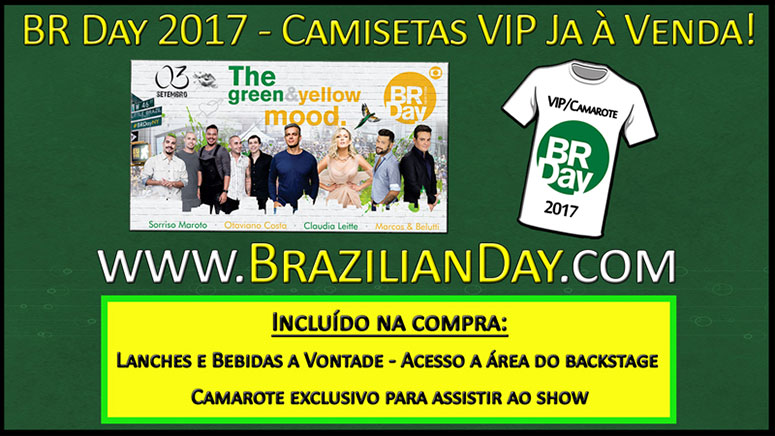 Research finds that live TV remains the most popular method of watching TV programming overall in the US. However, new media channels are catching up with—and in one case surpassing—the traditional way of watching TV shows among certain ethnic groups.
| | |
| --- | --- |
| | August 11, 2017 |
Data Feed
Growing Steadily: During its Q2 earnings, Snap reported that its daily active users grew from 143 million in Q2 2016 to 173 million in Q2 2017—an increase of 30.5 million.

China Heads Out: According to research from China Luxury Advisors and Fung Global Retail & Technology, more than two-thirds of surveyed outbound tourists from China made more than one trip over the past 12 months. On average, tourists from lower-tier cities spent more on travel than their Tier 1 counterparts.

More Data
©2017 eMarketer, Inc. 11 Times Square, New York, NY 10036
Join Us! at the

OCTG & Line Pipe Forecast Summit -

Key Drivers & Outlook for North America's Energy Sector on Tuesday, October 10, 2017 at the Hilton Houston Post Oak by the Galleria in Houston, Texas
Register now for Early Bird Rates before August 25

th
Group & Preston Pipe and World Steel Dynamics Subscriber Rates Are
available here or at www.globalsteelevents.com


Sponsors are Welcome - See below for Details
Preston Pipe & World Steel Dynamics organized this one day forecast summit and reception to discuss drivers, factors, issues impacting the Oil & Gas markets and activities in North America's Basins.
Preston Pipe focuses on the sectors' use of pipe including analysis of where it is produced, from which producers around the world its imported, sold to, where it's used, e.g. pipelines for transport, and raw material costs, regulations, etc.

World Steel Dynamics will provide its views of the global steel and hot rolled coil (HRC) steel trends, use and trade in the industry.

Other industry expert speakers including from BTU Analytics LLC, Genscape, etc. will complement the agenda
Below is a summary of the agenda that will start with breakfast, continue through lunch - with morning and afternoon refreshment breaks and concluding at ~5 pm - to be followed by reception with plenty of hors d'oeuvres, snacks and networking.
If your role involves understanding this sector and your business is driven by upstream or midstream oil and gas activity, this event will provide valuable, expert insights about this ever-changing market.
Meet with

OCTG and line pipe industry operators, consumers, manufacturers, distributors, importers, suppliers, and analysts, and lenders; hear Preston Pipe's 3 year OCTG and Line Pipe forecast; and listen to leading industry

experts discuss:
Current oil & gas market conditions, supply and outlook by region and basin in the USA and Canada

Transportation infrastructure requirements, pipelines – upstream and midstream

OCTG and line pipe demand makeup – size, weight & grade trends, etc.

Pipe and tube manufacturing raw material outlook, costs, supply etc.

Source of pipe & tube supply issues, including discussion of trade constraints

Hot rolled coil (HRC) steel availability, price differentials, trade trends

Legal, environmental, and governmental and social issues and factors

Project finance; mergers, and acquisition trends and more
A block of rooms at the Hilton Houston Post Oak by the Galleria has been reserved at a discount rate of US

$159 per night. The number of rooms are limited and available on first come, first served basis. To reserve a room on line click here Special Conference Discount or call +1.713.961.9300 The Group Code is PBCE. We encourage all to register for rooms early.
We welcome your passing this invitation to your colleagues.
Please call or email me if you have questions. Thank you.