HÉLIO OITICICA: TO ORGANIZE DELIRIUM


JUL 14–OCT 1, 2017
Hélio Oiticica: To Organize Delirium
is the first full-scale U.S. retrospective in two decades of the Brazilian artist's work. One of the most original artists of the twentieth century, Oiticica (1937—1980) made art that awakens us to our bodies, our senses, our feelings about being in the world: art that challenges us to assume a more active role. Beginning with geometric investigations in painting and drawing, Oiticica soon shifted to sculpture, architectural installations, writing, film, and large-scale environments of an increasingly immersive nature, works that transformed the viewer from a spectator into an active participant. The exhibition includes some of his large-scale installations, including
Tropicalia
and
Eden
, and examines the artist's involvement with music and literature, as well as his response to politics and the social environment. The show captures the excitement, complexity, and activist nature of Oiticica's art, focusing in particular on the decisive period he spent in New York in the 1970s, where
he was stimulated by the art, music, poetry, and theater scenes. While Oiticica engaged at first with many of the city's artists, he ended up living in self-fashioned isolation
before returning to Brazil. He died in in Rio de Janeiro, in 1980, at the age of 42.
This exhibition is organized by the Whitney Museum of American Art, New York; Carnegie Museum of Art, Pittsburgh; and the Art Institute of Chicago.
Hélio Oiticica: To Organize Delirium
is curated by Lynn Zelevansky, Henry J. Heinz II Director, Carnegie Museum of Art; Elisabeth Sussman, Curator and Sondra Gilman Curator of Photography, Whitney Museum of American Art; James Rondeau, President and Eloise W. Martin Director, Art Institute of Chicago; and Donna De Salvo, Deputy Director for International Initiatives and Senior Curator, Whitney Museum of American Art; with Katherine Brodbeck, Associate Curator, Carnegie Museum of Art.
Support for the national tour of this exhibition is provided by The Andy Warhol Foundation for the Visual Arts and the National Endowment for the Arts.
In New York, major support is provided by the National Committee of the Whitney Museum of American Art.
Generous support is provided by Art&Art Collection, Tony Bechara, the Garcia Family Foundation, and the Juliet Lea Hillman Simonds Foundation.
Additional support is provided by the Evelyn Toll Family Foundation.
Generous endowment support is also provided by The Keith Haring Foundation Exhibition Fund.

Whitney Museum
of American Art
99 Gansevoort Street
New York, NY 10014
(212) 570-3600
info@whitney.org
Cecilia André: Tied Together @ Rivington
Cecilia André - Tied Together
Curated by Nina Gomes and Katia Gerlach
Exploring the boundaries beyond canvas and material, Cecilia André weaves the seer into the void and transforms remains in a process of ceaseless renewal. As the seer, you delve from the past to the future and benefit from a sense of infinitude. Not so fixed in the now, André connects time dots, front and back, before and after, shadows and grids, wood and cloth in an avant-garde approach to the potentialities of matter. André is the old weaver dealing with contemporary fables. The artist invites not only the eyes but the whole body to float, transit, experiment in the role of a moving being through spatial ruptures. Beware: these elaborate frames not only resuscitate objects otherwise in decay, they actively redeem. Such redemption being the sole route to perpetuating a not merely mythical humanity.

...

Cecilia André is a Brazilian painter, with a BFA and a BAE from Armando Alvares Penteado Foundation, in Brazil. She has been living in New York for the past 25 years, where she studied in art programs at the New York Studio School, Pratt Institute and School of Visual Arts.
The artist has shown in important museums in Brazil, where she was represented by Adriana Penteado Contemporary Art Gallery for 17 years. In the U.S., she has shown her work at different venues in New York, including a solo exhibition curated by Kazuko Miyamoto at Gallery OneTwentyEight, and participated in four editions of the NYC Figment Arts Festival. Outside the city, André held exhibitions in Saint Louis MO and South Orange NJ.

2 Rivington St
July 5-9 / 12-6pm
Opening Night: July 6 / 5-9pm
VISUAL ART
What:
GNR Presents
: a multimedia collective show that brings together a wide range of works representing the gallery
Where
: Galerie Nara Roesler (Manhattan)
When: July 7 – September 1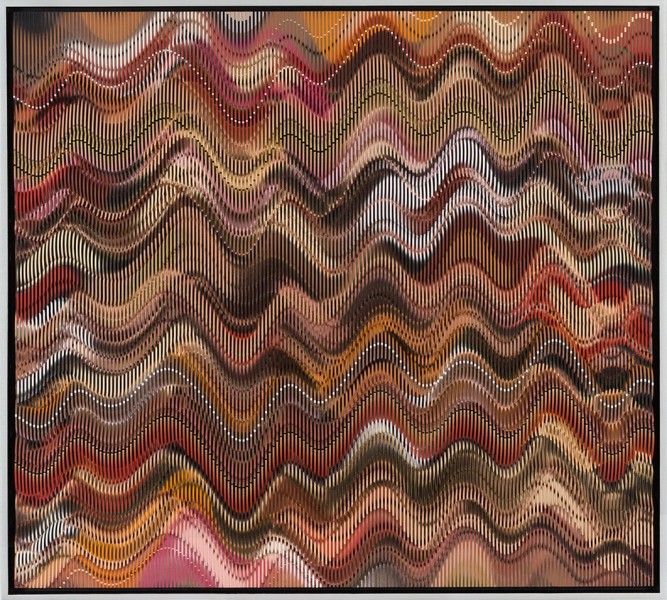 Galeria Nara Roesler | New York is delighted to announce GNR Presents:, a multimedia collective show that brings together a wide range of works representing the gallery's remarkable position as a leading Brazilian contemporary art gallery with 30 years of experience in the Global South, yet whose presence in the North spans barely two years. The exhibition encompasses the gallery's twofold mission to promote Brazilian art abroad while actively contributing to the internationalization of the Brazilian art scene through a rigorous international program. A series of talks and workshops at the gallery and throughout New York City has been organized to accompany the exhibition.

GNR Presents: convenes a cross-generational group of artists, from the Global North and South, whose works reflect on formal concerns such as the role of color, spatiality, and the public. Presenting works by seminal Brazilian artists such as Hélio Oiticica, Sérgio Camargo, Lygia Clark, and Tunga, the exhibition also showcases works by key international artists who similarly experiment with space and perception, including Daniel Buren. In addition, it features works by young and up-and-coming artists who share these formal concerns, namely Bruno Dunley and Eduardo Navarro. While the former's body of work considers the representational language inherent in painting, the latter's participatory action projects activate the audience's presence. GNR Presents: also subtly reflects on the concept of a Global North and South in its presentation of pieces by Latin American artists Vik Muniz and Alexandre Arrechea, who pay tribute to New York City in their depictions of iconic buildings including the Guggenheim Museum and the Chrysler Building.
Color extends as a thread throughout the exhibition, establishing a spatial and physical presence, which fosters corresponding relationships between works. While some artists visibly yield color on flat surfaces to reflect on form in space, others present similar strategies in three-dimensional fields. For instance, Hélio Oiticica's paintings Metaesquema (1957–1958) and Lygia Clark's Planos em Superficie Modulada (1957) are monochromatic sketches of geometric shapes that create an interplay between figure and background. These works challenge their own two-dimensionality by evoking a sense of instability, movement (as in Oiticica's work), and depth (as in Clark's.) Oiticica achieves these effects by partially applying a rhythmic "mirroring" strategy, whereby he replicates his patterns. Daniel Buren's installation, Prisms and Mirros: High Reliefs (2017)follows this line of experimentation by seeking to enhance light and color through spatial arrangements, while going further by allowing the viewer and his space to become active participants in the work.
Another correspondence takes place between Abraham Palatnik'sUntitled (2016) and Tunga's Untitled (1999), the latter of which pertains to the artist's "Scalp" series. Both works test the cognitive capabilities of fragmented media, yet Palatnik accomplishes this by juxtaposing the pictorial potential of the wood with that of paint, while Tunga assembles pliable threads of brass so as to evoke hair held by combs. Also on display is Sérgio Camargo's Untitled #268 (1970), whose white sculptural relief interacts with the minute systems in Marco Maggi's Language in Residence (2016). While Camargo's work straddles
he polarity of surface and sculpture by allowing light to shine on the smooth forms that lie within the wood, Maggi's reveals a system within minutely low reliefs.
Artists whose works are in the exhibition include: Abraham Palatnik, Alexandre Arrechea, Artur Lescher, Bruno Dunley, Cristina Canale, Daniel Buren, Eduardo Navarro, Hélio Oiticica, Lygia Clark, Marco Maggi, Milton Machado, Sérgio Camargo, Tunga, Vik Muniz, Xavier Veilhan.
Please join us for our Summer Events and Summer Drinks on Friday, July 7, from 4pm to 7pm, to celebrate the opening of GNR Presents:.
GNR Presents: Summer Events

Friday, July 7th | 4pm to 7pm | Summer Drinks
at Galeria Nara Roesler | New York
Join us to celebrate the opening of GNR Presents:

Friday, July 21st | 8pm to 10pm | Performance, O Grivo at Triple Canopy
264 Canal Street, 3W, New York, New York
The piece presented at Triple Canopy will be the same as O Grivo will perform at the exhibition "Soundracks" at SFMOMA, curated by Rudolf Frieling and Tanya Zimbardo, on view from July 15th, 2017 to January 1st, 2018

Tuesday, July 25th | 6:00pm | Summer Guests #1: Collecting: Young & Latin
at Galeria Nara Roesler | New York
A conversation about collecting with Kaeli Deane, Head of Sale of Latin American Art at Phillips, and Joey Lico, curator and director of programming for the Americas at The Cultivist

Thursday, July 27th | 6:30pm | Performance, "Paul Ramirez Jonas: Half-Truths" at New Museum
235 Bowery, 5th floor, New York, New York
The special performance will be presented within the exhibition "Paul Ramirez Jonas: Half-Truths" at New Museum, curated by Johanna Burton, Shaun Leonardo and Emily Mello, on view from July 5th, 2017 to September 17th, 2017

Tuesday, August 8th | 6:30 pm | Summer Guests #2: Workshop with Marco Maggi
at Galeria Nara Roesler | New York
Marco Maggi invites the audience to slow down and refocus their attention by creating their own piece in a casual collaboration with the artist
Tuesday,

August 22nd

|

6:30pm

| Summer Guests #3: Alexandre Arrechea on Art Outside
at Galeria Nara Roesler | New York
Alexandre Arrechea delves into the expressive power of architecture and public art, a topic he has often approached in works such as the monumental project Katrina Chairs, notably installed at Coachella 2016

eTail is proud to present our new
eCommerce Innovation Briefing
, where we investigate how major retailers are implementing omnichannel innovation.
In this report, we cover brands and topics like:

Our goal is to take you behind the scenes for a detailed look at exactly how these companies are implementing their omnichannel initiatives. You can download the report by
clicking here
or on the button below.
If you find the report useful, please pass it on!
What is eTail?
eTail is where the top minds at America's most successful retailers meet and learn. We give you the most disruptive content, designed to help you optimize the profits from your business. No commercials. No egos. Talk is cheap - so we cut out the fluff to give you hundreds of strategic takeaways. Guaranteed.
P.S.

Retailers - register now and get 25% off current price with code ETE17EMKT
(that's on top of the current discount)
. Register at
www.etaileast.com
or call us at 1-888-482-6012.