In Japan, Demand for Tablets Stays Strong
Shipments of tablets in Japan continue to climb, with total shipments reaching 9.4 million units in 2015, an increase of 8.4% from the year prior. Android tablets are the most popular devices in the market, with the platform controlling more than 46% market share.
Read Article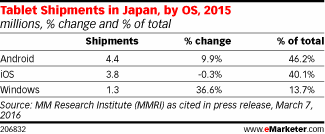 Exclusive

for eMarketer Customers
A Look at Instagram Usage Among US Teens
Social networking is a core activity of teens' mobile usage, and Instagram is one mobile social platform that has caught on with this group in a major way. Recent research shows that if a teenager in the US owns a smartphone or uses social networks, there's a high likelihood that he or she is on Instagram.
Read Brief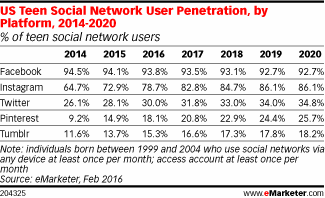 ¡Hola desde Cuba! Michelle, the girls, and I are here in Havana on our first full day in Cuba. Cubans have lined the streets to welcome us, and it's humbling to be the first U.S. president in nearly 90 years to visit a country and a people just 90 miles from our shores.


---

---

Like so many Americans, I've only known the isolation that has existed between our two governments. I was born in 1961, the year of the Bay of Pigs invasion. A year later, a Cold War confrontation over Cuba pushed the world as close as it's ever been to nuclear war. As the decades passed, the mistrust between our governments resulted in heartache for our two peoples, including Cuban Americans, many of whom have endured decades of separation from their homeland and relatives.
I've come to Havana to extend the hand of friendship to the Cuban people. I'm here to bury the last vestige of the Cold War in the Americas and to forge a new era of understanding to help improve the daily lives of the Cuban people.
There continue to be real and important differences between our governments, including profound differences on the way to promote safety, security, opportunity, and human rights. But there's so much Americans and Cubans share -- our cultures and passions, our hopes for the future, not to mention a love of baseball.
I know one visit, and one president, cannot erase the decades of history that have left so many Cubans in poverty or exile. But sometimes the most important changes begin with the smallest step. I believe in the Cuban people and their desire to build a future of their own choosing. And I believe that changing the way we do things between our countries will, over time, help make that possible.
So I'm looking forward to meeting and hearing directly from Cubans from all walks of life. And I'm confident that, working together with the Cuban people, our two countries can begin a new journey together that delivers progress for both our peoples.
Thank you,
President Barack Obama





Brazil: Midyear Economic and
Political Outlook
Christopher Garman, Director, Latin
America, Eurasia Grupo
Christopher Garman is a Director at Eurasia Group, the Head of its Latin America practice, and the Lead Analyst on Brazil. From 2001 to 2005 Mr. Garman worked as a Senior Political Analyst at Tendencias Consultoria Integrada, Brazil´s largest economic and political consulting firm. Prior to that, he held fellowships at Instituto de Estudos Economicos, Sociais e Politicos de Sao Paulo (IDESP), where he researched central bank politics in the region, and Centro de Estudos de Cultura Contemporanea (CEDEC), where he conducted field research on Brazilian federalism. Mr. Garman earned an M.A. in political science from the University of California, San Diego (UCSD). He has conducted extensive field research in Brazil, and has published articles in World Politics, Latin America Research Review, and the Brazilian Journal of Political Economy.´
Maria Claudia Ribeiro de Castro

, Global Fixed Income
Team, OppenheimerFunds
Maria Claudia Ribeiro de Castro

is a senior analyst with the Global Fixed Income Team at OppenheimerFunds. She is responsible for Latin America and Africa in the overall portfolio strategy. Claudia has covered emerging markets for over a decade; she started her career in the global securities industry at Morgan Stanley, where she conducted macroeconomic research at the Global Economics group focusing on Latin America. Previously, Claudia taught economics at the University of Louvain-la-Neuve, Belgium and was a research fellow at the Central Bank of Spain, Madrid. She also held research positions at the IMF and the World Bank in Washington, DC. Claudia received a Ph.D. in economics from Columbia University and a Master's degree in Political Science from Indiana University of Pennsylvania.
Olá, Sula!
Há 70 anos a
Fundação Dorina
trabalha para que milhares de pessoas com deficiência visual possam alcançar uma vida mais independente, com acesso a cultura e informação.
A Carol é uma das centenas de crianças
que fazem parte da nossa história. Ela passou por atendimentos especializados e teve apoio de diversos profissionais para que, hoje, possa viver uma vida mais independente e feliz.
Porém, para conseguirmos
continuar atendendo outras crianças com deficiência visual
, precisamos do seu apoio, Sula!
Com apenas R$ 30 por mês (menos de R$ 1 por dia!) você
permite que crianças cegas recebam atendimento adequado
para um desenvolvimento saudável!
Muito obrigada!