Neste final de semana no Espaço Imaginário Cultural:
Grupo Paraibola com aquele forró maravilhoso, a partir das 21h30!!!
Cia Bagagem de Bonecos, na Matinê Imaginário, às 18h com o espetáculo Circo Mulambo!!!
Performance com o grupo Zona de Contágio!
Todos os eventos são gratuitos! Traga sua família e amigos e venha se divertir com a gente!!!
ASSOCIAÇÃO IMAGINÁRIO CULTURAL




Coordenadores: Marília de Abreu, Tássia Aguiar, Alan Mariano




QS 103 Conjunto 05 lote 05 Samambaia Sul






Facebook: Espaço Imaginário



Página do Facebook: Associação Imaginário Cultural


Assine a campanha para pedir a libertação do missionário Petr Jašek
Olá, SULA!
Petr Jašek, missionário tcheco, foi para o Sudão ajudar cristãos que estavam sendo perseguidos por sua fé. Pouco tempos depois de ter chegado lá, tornou-se também um cristão perseguido.
Há cerca de um ano ele foi preso injustamente no Sudão e até hoje se encontra nesta situação.
Será julgado em breve e poderá ser punido com pena de morte.
Assine a petição para pedir a libertação de Jašek:
http://citizengo.org/pt-pt/pr/node%3Anid%5D-missionario-cristao-pode-ser-punido-com-pena-morte-pecamos-libertacao-dele
Em novembro de 2015, Petr soube da dramática situação do estudante sudanês Ali Omer, que em 2013, durante um protesto, sofreu graves queimaduras. Petr decidiu ir para o Sudão a fim de contribuir financeiramente com o tratamento de Ali e ajudar outros cristãos que vinham sofrendo perseguição.
No dia 10 de dezembro de 2015, pouco tempo antes do dia em que retornaria para República Tcheca, Petr foi preso por membros do serviço secreto sudanês em Khartoum. Algum tempo depois, ele foi acusado de diversos crimes. Algumas das acusações foram: espionagem, sedição, subversão da República... Três sudaneses também foram presos junto com Petr.
O processo é claramente político. As acusações têm como objetivo neutralizar todos os críticos do regime. Petr é o primeiro europeu a sofrer uma pena desse tipo no Sudão. A prisão dele nos dá a oportunidade de denunciar a injusta perseguição que os cristãos sofrem no Sudão
.
A defesa de Petr afirma que seus acusadores não têm nenhuma prova contra ele, mas infelizmente não há perspectiva de que o julgamento seja justo, pois o governo sudanês é fundamentado na lei da Sharia.
Porém, não podemos perder as esperanças! Há dois anos, com a ajuda de milhares de
citizengoers
de todo o mundo,
Meriam Ibrahim,
uma cristã sudanesa que havia sido condenada à morte, foi libertada
! Uma combinação de medidas políticas e pressão da sociedade civil garantiram a liberdade dela.
Petr poderá ser julgado e condenado à morte nos próximos dias. Por isso, mais uma vez, venho pedir sua ajuda. Assine a campanha para pedir a libertação de Petr e não deixe de compartilhá-la com o maior número possível de pessoas.
http://citizengo.org/pt-pt/pr/node%3Anid%5D-missionario-cristao-pode-ser-punido-com-pena-morte-pecamos-libertacao-dele
Esta cátedra busca selecionar professor/pesquisador brasileiro que atue em instituição de ensino superior nas
áreas de Ciências Humanas e Sociais, com interesse em História do Brasil Contemporâneo, Antropologia, Ciência Política ou Sociologia
para participar das atividades de docência na Universidade de Columbia, em Nova York. O candidato selecionado deverá passar um ou dois semestres acadêmicos ministrando cursos e realizando pesquisa.
O programa é uma parceria entre a Comissão Fulbright, a CAPES, a FAPESP e a Columbia University.
REQUISITOS
Possuir nacionalidade brasileira e não ter nacionalidade norte-americana;

Ter concluído o doutorado até 31 de dezembro de 2007;

Estar credenciado como docente e orientador em programa de pós-graduação reconhecido pela CAPES;

Dedicar-se em regime integral às atividades acadêmicas, que devem incluir a docência, orientação ou co-orientação de dissertações ou teses e/ou a participação em projetos de pesquisa nas áreas de História do Brasil Contemporânea, Antropologia, Ciência Política e Sociologia;

Possuir atuação acadêmica qualificada na área e reconhecida competência profissional com produção intelectual consistente;

Ter fluência em inglês compatível com o bom desempenho nas atividades previstas, que inclui ministrar aulas;

Não receber bolsa ou benefício financeiro de outras agências ou entidades brasileiras para o mesmo objetivo;

Residir no Brasil no momento da candidatura e durante todo o processo de seleção.
BENEFÍCIOS
Bolsa de US$ 45.000 pelos nove meses de permanência ou US$ 20.000 por quatro meses acadêmicos;

Auxílio-instalação de US$ 2.000;

Seguro-saúde;

Visto J-1;

Auxílio deslocamento ou passagem aérea de ida e volta; e

Moradia no campus, sem custos para o bolsista;

Acesso às instalações e serviços da Universidade Columbia, tais como: escritório, internet, laboratórios, bibliotecas e demais meios necessários à efetiva consecução das atividades de docência e pesquisa previstas pelo bolsista.
Veja instruções para se candidatar à bolsa para a cátedra em Nova York
Mais infromações:
http://fulbright.org.br/edital/catedra-fulbright-dra-ruth-cardoso-na-universidade-columbia/
Thursday, December 1
La guerrillera y el cuerpo en trauma en Nunca estuve sola, de Nidia Díaz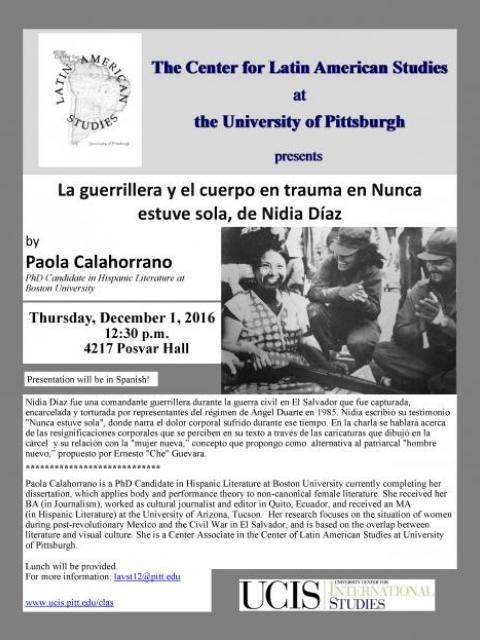 Presenter:
by Paola Calahorrano PhD Candidate in Hispanic Literature at Boston University
Location:
4217 Posvar Hall
Sponsored by:
Center for Latin American Studies
Contact Phone:
4126487391
Contact Email:
lavst12@pitt.edu
Presentation will be in Spanish!
Nidia Díaz fue una comandante guerrillera durante la guerra civil en El Salvador que fue capturada, encarcelada y torturada por representantes del régimen de Ángel Duarte en 1985. Nidia escribió su testimonio "Nunca estuve sola", donde narra el dolor corporal sufrido durante ese tiempo. En la charla se hablará acerca de las resignificaciones corporales que se perciben en su texto a través de las caricaturas que dibujó en la cárcel y su relación con la "mujer nueva," concepto que propongo como alternativa al patriarcal "hombre nuevo," propuesto por Ernesto "Che" Guevara.
****************************
Paola Calahorrano is a PhD Candidate in Hispanic Literature at Boston University currently completing her dissertation, which applies body and performance theory to non-canonical female literature. She received her BA (in Journalism), worked as cultural journalist and editor in Quito, Ecuador, and received an MA (in Hispanic Literature) at the University of Arizona, Tucson. Her research focuses on the situation of women during post-revolutionary Mexico and the Civil War in El Salvador, and is based on the overlap betweenliterature and visual culture. She is a Center Associate in the Center of Latin American Studies at University of Pittsburgh.
Wednesday, December 7
Innovative Online & EFL Education Examples from China & Colombia
Location:
5604 Wesley W. Posvar Hall
Sponsored by:
Asian Studies Center, Center for Latin American Studies and Global Studies Center
along with
Institute for International Studies in Education
• "Designing MOOCs in a Chinese Social Network Environment" by IISE Visiting Scholar, Dr. Xiufang Ma
• "A Reverse Mentoring Program in Elementary Levels during the Practicum in Monteria, Colombia" by IISE Visiting Scholar, Luis Mario Viaña Patrón
• "A Study on Cultivating Pragmatic Competence of Chinese EFL Learners" by IISE Visiting Scholar, Xiaoyan Xu
BOLSAS PARA BRASILEIROS
Fulbright is a U.S. flagship academic program, which provides grants to unique experiences for higher education graduates and scholars.
A Fulbright é a porta de entrada para a mais prestigiada rede de ensino superior e pesquisa do mundo. Oferecemos uma variedade de programas para atender às necessidades de formação de estudantes e pesquisadores em estreita coordenação com os governos do Brasil e EUA.