Documentary the art of Brazil in the USA by Sula Costa and Gil Becker
The TV producer Sula Costa and cameraman Gil Becker inspired him to produce the documentary the art of Brazil in the USA with the main objective to disseminate names that are not yet known in the market of the arts.
The first act of the audiovisual project is the account and experience of Brazilian artists. Each with its artistic format, though that belong to the same country, have highlighted the cultural differences from one region of Brazil to another.
The documentary will portray the life and philosophy of various artists, with their sculpture techniques, talk about your relationship with the Visual Arts and his life story.
Colors, forms, lights, volumes, shadows, perspectives, silhouettes… ideas. Art blows in all its dimensions in New York, an inspiring environment where circulating more than 10.000 artists by day. The feature-length documentary that invites the public to an exciting and playful film journey through the universe of Visual Arts.
Written and directed by Sulla Costa, THE ART OF BRAZIL IN THE USA, stitching with precision and creativity testimonials of artists, critics, Trustees and even cameos from established artists, beyond – why not? – professionals all kinds of art and culture. And extracts of their subjects the most provocative confessions, discoveries and reflections, interspersed by beautiful images of our recent artistic production. With testimonials of artists from North to South of Brazil, the documentary serves as research material and history of our contemporary art.
"The answers to the questions proposed shall be distributed by the documentary following its contents and all the senses and meanings that arose in dialogue with artists who exhibit their art in the year 2014 and 2015, building, so, a wide network of thoughts that complement or oppose opening up many possibilities of perception and understanding", says the Director Sulla Costa.
On the flow of artists who will be providing their testimony in the audiovisual project, will be organized exhibitions with the works of these artists, will be more than 10.000 works with different characteristics and scattered by the galleries and museums in New York.
The artwork of these artists always impressed me, mainly by two qualities: the technique, verging on perfection, his watercolors and the lightness of your hand, is brushing, with color pencil. By this delicacy to match the personality of these illustrators, some of them unknown, you've enriched my cultural background several times with his work. And, Interestingly, contrasts with the claw, the perseverance and courage with which she throws in successive projects, renewing permanently. "
Throw on your paintings several layers of pointillism, Unprovisioning the original image of your screens, seeking a foray into contemporary art language. Are numerous works on canvas where scenes from an idyllic Brazil crumble under the opacity of vibrant colors and reverberant.
COSTA CONSULTING CO
BLOCK SC/SOUTH QD 08 B BLOCK NRO 50 SLS, 434
Brasilia, DF | Brasil
http://sulacosta.com
|
info@sulacosta.com
© 2016 UNICEF, All Rights Reserved.


It might be hard to imagine now, but in 2013, when President Obama took a strong stand on climate change during his second inaugural speech, politicos and pundits in Washington were caught off guard, surprised that he even mentioned the issue.

They thought climate change was a niche issue -- but doing what's right for our public health and for our kids' future has always been more important than short-term politics.

That's why a few months later, the President announced his strategy to tackle carbon pollution. Today, we're celebrating the one-year anniversary of the centerpiece of that strategy, the Clean Power Plan, which will cut carbon pollution from our power plants by 32 percent by 2030 -- and help solidify our transition to an America powered by clean energy.

The Clean Power Plan is a big step forward -- in fact, the New York Times called it "the strongest action ever taken by an American president to tackle climate change." But climate change deniers still want to roll it back.

Stand up for the Clean Power Plan and for aggressive action to tackle climate change.

The Clean Power Plan is the result of millions of people like you rejecting the idea that taking on climate change is too big or too hard, or that the status quo is all we can hope for. It's an example of the kind of change that's possible when people raise their voices together.

It's not the only victory we've won, either. We've doubled the amount of clean, renewable energy we generate in the U.S. Wind and solar are cheaper than ever, and hundreds of thousands of people work in these new growing industries. The groundbreaking Paris Climate Agreement -- reached last fall -- marked the first time nearly every country in the world agreed to cut carbon pollution and fight climate change head on.

We are making progress, thanks to you. But we can't stop now -- we've got to keep up the momentum to ensure we pass on a safe, healthy climate to our kids.



Say you won't stop fighting:



https://my.barackobama.com/Speak-Up-For-Climate-Progress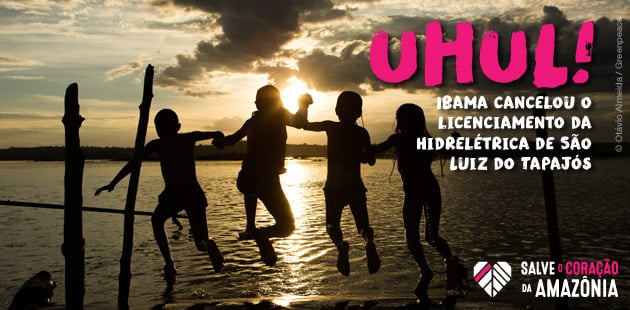 Depois de mais de 30 anos lutando pela proteção de seu território, o povo Munduruku venceu uma importante batalha para manter o Tapajós livre de barragens.
O seu apoio, junto a mais de 1,2 milhão de pessoas ao redor do mundo, foi decisivo para esse desfecho
. Nem mesmo enormes projetos de infraestrutura são imunes ao poder que temos quando nos unimos para fazer a diferença!
Os últimos meses foram intensos. Enquanto os Munduruku e as comunidades locais estavam lutando, nós também fizemos a nossa parte.
Foram ações em mais de 20 países, e milhares de mensagens foram enviadas para o CEO da Siemens
deixando claro para as empresas que lucrar com a destruição da Amazônia é inaceitável. Você assinou a petição e sua ajuda foi fundamental para essa conquista,

isso também só foi possível com a doação de pessoas físicas como você

. O Greenpeace não aceita doações de governo e empresas, para garantir nossa independência de atuação e conquistar vitórias como esta.
Que tal fazer parte do nosso time e vestir a camisa pelo Tapajós?

Há muito o que comemorar, mas isso não significa que o governo brasileiro não irá avançar com as outras 42 barragens planejadas para a bacia do Tapajós. O nosso trabalho não termina aqui. Ainda falta o governo brasileiro reconhecer o direito originário dos Munduruku ao seu território tradicional e nós precisamos continuar unidos para apoiá-los.