THE WHITE HOUSE



When President Obama met Army Ranger Cory Remsburg:

Today is the seventh anniversary of of the first time President Obama met with Sergeant First Class Cory Remsburg. Read the President's reflection on what Cory has taught him over the years -- and watch the video to see what happened the last time they met.
Seven years ago today, while honoring the heroes of D-Day, I met a young Army Ranger, Cory Remsburg.

Eight months later, I walked into a hospital room at Bethesda to visit a grievously wounded soldier. It was Cory, and he had been nearly killed by a massive roadside bomb in Afghanistan.

Over the years, I've met up with Cory as he's worked hard to recover, and I've shared his incredible story with you.
Now, seven years after we first met, Cory recently visited me in the Oval Office -- and for the first time since the explosion, Cory is walking short distances unassisted. He was determined to walk into the Oval Office on his own.
Take a look at Cory's visit, and you'll see why, of all the people I've met as President, no one has inspired me more than Cory. He never quits. He never gives up. And he's always pushing the limits, reminding us of our solemn obligation to all our veterans and wounded warriors who've risked their lives for us all.

LATAM AIRLINES PRESENTS: ZECA PAGODINHO
LIVE IN CONCERT - 2016 SER HUMANO TOUR
Palacio Europa - Saturday June 25th - Newark, New Jersey
Doors Open at 9PM - 21 and over to enter
Buy your tickets online

www.brazilinconcert.com/#zeca


Or call: Brazil in Concert (212) 398-6464 ex.3201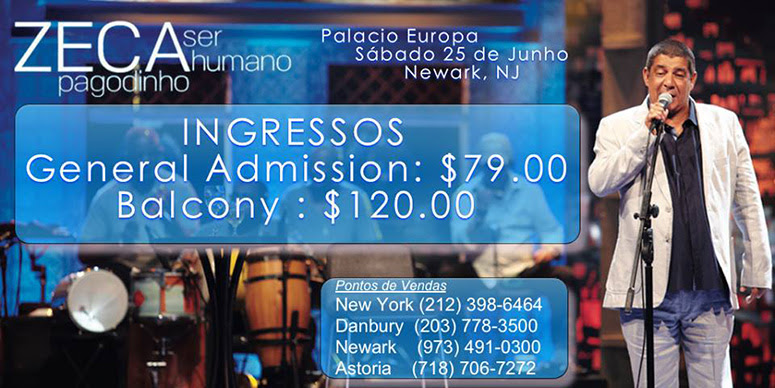 New York City | June 9th | Jacob K. Javits Convention Center | Hall 1C
- Network With Thousands of Business Owners -

SMALL BUSINESS EXPO - NEW YORK CITY
This Thursday, June 9th • Jacob K. Javits Convention Center • Hall 1C
This Thursday!
Be sure to tell your friends & colleagues.
SO MUCH TO DO
AT SMALL BUSINESS EXPO!
Exhibitors


Browse a wide variety of goods & services.

30+ Workshops


Learn business-critical skills from respected industry professionals.

Speed Networking


Exchange information with like-minded business owners & entrepreneurs.

Get Dotted

®




A fun, colorful new way to network on the show floor.

Business Development Center


See what local chambers of commerce & non-profits have to offer in your area.

Inspiration2020 Showcase Theater


Cutting-edge presentations by industry leaders, brought to you by Powerteam International

eLounge


Relax and take a break away from the hectic pace of the show floor.

Business Card Showcase


Leave your business card for other entrepreneurs to find, and pick up a few yourself.