Do you have a system for creating predictable revenue automatically from LinkedIn clients?
Have you heard about the Social Media Marketing Society new from Social Media Examiner?
What is it? Highly tactical (and live) training on the latest in social media marketing, delivered to you every month, no matter where you are.
Add an exclusive community of marketers like you and it's a formula to keep your business on the leading edge.
Click here to join: http://bit.ly/1dlgsoU
Is the Society Right for You?
The team at Social Media Examiner has been working for eleven months to create a place for people like you-busy marketers and business owners who want to employ the newest social tactics without a lot of trial and error. They studied more than 4,500 marketers to really understand the unique challenges you face.
Here's what they discovered:
#1: You're really busy and wish you had more time to keep up with the ever changing world of social media marketing.
#2: You want an easier way to discover new social tactics that deliver real results.
#3: You want to eliminate trial and error and focus on what really works, without all the guesswork and experimentation.
#4: You're looking for a competitive advantage.
#5: You want to focus on what works best.
They created the Society to help you get over these hurdles-to help guide you on your climb to success.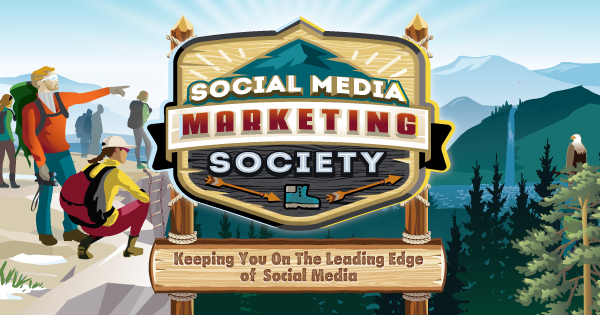 Why join the Society?
The Social Media Marketing Society is an exclusive membership community from Social Media Examiner. The purpose of the Society is to help you discover new ideas, avoid trial and error,implement the newest social tactics and find what works best with social media marketing.
1,200 of your peers already belong to the Society.
When you join, you'll receive three original trainings each month that are timely, tactical and expert-led. This means that you'll have the ongoing training you need to implement all the latest social media marketing tactics that matter.
Click here to join: http://bit.ly/1dlgsoU
The Society aims to be your competitive advantage. Plus, you'll be able to network with fellow marketers just like you. No longer do you need to wonder how your peers are tackling the same struggles you are. With the Society, you can easily connect with other marketers, share experiences and support one another. Got a question? Post it in the Society Forums. You're sure to get some great advice from fellow marketers around the world. Want to meet others in your industry or interest area? Check out the upcoming topics for our video hangouts and talk to other Society members live! Here's the cool part. Everything takes place online!
The Society was created to be simple and accessible for busy marketers like you. You can attend the training sessions and interact with other marketers from the comfort of your office chair-wherever you are in the world!

Moderator & Publisher
www.SocialMediopolis.com
P.S. The doors to the Society close soon and they won't open again until 2016, so join now!
O VÍCIO DA MEDIOCRIDADE
Os tropeços do modelo de ajuste econômico implantado pelo governo Dilma não surpreendem. Trata-se de uma frustração anunciada. Como eu disse no Senado no início de março, vaticinando o que viria a acontecer, estamos diante de um oximoro perfeito: um ajuste desajustado. Os principais objetivos - promover o equilibrio fiscal, deter a inflação e melhorar as expectativas dos agentes econômicos - não só não foram atingidos como ficaram mais distantes.
O comportamento da inflação derrubou as projeções e ela chegará perto dos 10% ao longo do ano. Isso era previsível, dado o tamanho dos reajustes dos preços administrados - energia, combustíveis e transporte - além da resiliente indexação da economia.
As metas fiscais eram irrealistas e o déficit primário aumentou de 0,6% a 0,8% do PIB (12 meses) entre dezembro e abril. O déficit nominal cresceu de 6,2% a 7,5%% do PIB no mesmo período. Isso também era previsível, graças, de um lado, à queda das receitas do governo (perto de 5% real), derivada da recessão, e, do outro, à aloprada política de juros.
Desde que Dilma se reelegeu, o reajuste acumulado da taxa de juros (SELIC) chegou a 2,75 pontos percentuais. Os aumentos prosseguiram apesar de a economia continuar desabando, de não haver pressão de demanda e de a diferença das taxas brasileiras com as do exterior serem imensas (cerca de 0% nos EUA e na Europa). São aumentos fúteis, mas que, além de derrubarem os investimentos e a atividade econômica, levando junto empregos e arrecadação, entram na veia do deficit público: o custo anualizado para o Tesouro da elevação dos juros é da ordem de R$ 38 bilhões!
O ônus social e político do ajuste desajustado para o governo Dilma ainda está por se manifestar plenamente. O desemprego, que saltou de 4,9 para 6,4% entre abril do ano passado e abril deste ano, caminha para 9% até dezembro, segundo projeção do professor J.R.Mendonça de Barros, que estima a queda do PIB de 1,5 a 2% em 2015 e crescimento zero em 2016. Alguém duvida que, como consequência, a crise política se agravará ainda mais no segundo semestre?
Aliás, se há um terreno onde o desempenho do governo deixa a desejar é precisamente o das expectativas, que, no mundo econômico de hoje, funcionam cada vez mais como profecias que se auto-realizam. A sinalização de caminhos - frentes de expansão capazes de puxar a economia - é essencial para que políticas de ajustes funcionem melhor. Mas isso é tudo o que o governo não faz. Sem esforço, podemos identificar três frentes possíveis e necessárias: exportações, infraestrutura e petróleo.
No comércio exterior continuamos galhardamente aprisionados na Papuda da União Alfandegária do MercoSul, segundo a qual renunciamos à nossa soberania comercial: qualquer acordo de livre comércio com outro país precisa ser aprovado pelos sócios: Argentina, Uruguai, Paraguai e,agora, Venezuela.
Quanto à Infraestrutura – portos, aeroportos, ferrovias, estradas, hidrovias, energia, que turbinam o custo-Brasil - tardiamente anunciou-se um plano, dificultado pelos juros elevados, que afastam parceiros privados, e pelos cortes de 36% dos investimentos federais.. E, para culminar, o toque cucaracha: o novo anúncio substituiu a alucinação do Trem-bala Rio-SP pela Ferrovia Transperuana, que, supostamente, abriria o caminho do Pacífico para a economia brasileira. Só que sai mais barato exportar a soja do Brasil Central para a China via porto Santos ou Paranaguá do que pela nova ferrovia do Pacífico: 46 dólares a menos por tonelada, segundo Blairo Maggi, meu colega do Senado, ex-governador de Mato Grosso e grande produtor de soja. Mas projeto-miragem não é inofensivo: ao contrário, a brincadeira contribui para tirar a seriedade do anúncio e a credibilidade do governo.
No setor do petróleo, tudo ia bem até o acesso de megalomania que acometeu os governos petistas em relação à empresa, com os imensos e desastrosos investimentos em refinarias (prejuízos de R$80 bilhões), o loteamento político de cargos estratégicos, e o arrocho dos preços dos combustíveis (prejuízos de R$60 bilhões) – estratégia oportunista para segurar a inflação. Assim a dívida líquida da Petrobrás chegou a R$330 bilhões, equivalentes a 5 vezes a geração de caixa operacional da empresa. Tanto é assim a atual diretoria da estatal programou a venda de ativos da ordem de 14 bilhões de dólares!
Em 2010, e como estratégia da eleição presidencial, o regime de concessão para a exploração do pré-sal foi substituído pelo de partilha, Estabeleceu-se que a Petrobrás deveria ser o operador único de cada área licitada e financiar pelo menos 30% do investimento necessário. Entre as discussões e definições sobre a mudança de método, e as dificuldades da Petrobrás para cumprir a nova obrigação , o Brasil ficou cinco anos sem leilões (2008-2013), levando a uma semi-estagnação da indústria petrolífera.
Por isso mesmo, apresentei no Senado projeto que retira a obrigatoriedade de a Petrobrás ser a operadora única do pré-sal e de bancar 30% dos custos dos investimentos. Hoje, ela não tem dinheiro nem capacidade para cumprir esse papel. Garanto que os dirigentes mais responsáveis da empresa apoiam a medida, que, por outro lado, permitiria dinamizar a exploração do pré-sal.
Soberania ameaçada? Invasão das transnacionais? Tudo delírio. A Petrobrás detém reservas equivalentes a 40 vezes sua produção anual! Mais ainda, a lei de 2010 permite que o Conselho Nacional de Política Energética entregue à empresa, sem licitação, áreas que considere estratégicas.Meu projeto não mexe nisso nem no regime de partilha.(Ou seja, se aparecer um Kuwait dentro ou fora do pré-sal o CNPE pode imediatamente entregá-lo à Petrobrás).
O propósito é ajudar a recuperação da Petrobrás e a dinamização da produção nacional de petróleo. Uma contribuição à melhora das expectativas sobre a economia brasileira, mas o Palácio do Planalto se opõe a ela.
A característica definidora de um governo ruim é não querer melhorar. O governo ruim se intoxica com a própria mediocridade. Vicia-se nela.
Campeonato Metropolitano de Futsal das Categorias de Base Masculino 2015.
Associação Desportiva Arena de Futsal vem através deste informa que estará participar da fase final do Campeonato Metropolitano de Futsal 2015.
Com apoio da Prefeitura de Anápolis, por meio da Secretaria Municipal de Esportes e Lazer, a Associação Desportiva Arena de Futsal (ADAF), estará disputando a partir desta sexta-feira dia 26 de junho até o dia 28 de junho de 2015 na cidade de Goiânia a Fase Final do Campeonato Metropolitano de FUTSAL das Categorias de Base Masculino.
Os jogos serão realizados no Ginásio de Campinas, Ginásio da Serrinha e no Ginásio do Centro de Esportes Campus Samambaia- UFG .
Sendo que este campeonato contar com a participação de varias equipes de todo estado de Goiás dividido em seis categorias sendo elas Sub-09, 11, 13, 15, 17 e 20.
O evento conta com a organização da Federação Goiana de Futsal e tem o objetivo resgatar e fortalecer o interesse pela modalidade no estado de Goiás e promover o lazer, a integração e a diversão entre todos os Atletas.
Divulgue seu projeto! Nosso objetivo é selecionar, recomendar e reconhecer as melhores iniciativas de produção de conteúdo independente no Brasil em ambiente digital.
Após 5 edições, mais de 160 mil blogs inscritos e diversos
projetos contemplados, o Top Blog retorna sob nova gestão
e com nova proposta de premiação.
Agora você também poderá inscrever-se com diferentes
plataformas digitais através das novas categorias:
| | | |
| --- | --- | --- |
| | Cadastre-se e tenha novidades em breve. | |
Você que já fez parte do Prêmio Top Blog, contribua também com as suas sugestões.
Mande seu comentário para faleconosco@topblog.com.br
Sent from Yahoo Mail on Android
---
After more than 50 votes in Congress to repeal or weaken the Affordable Care Act and multiple challenges before the Supreme Court, here is what we know today: This law worked. It's still working. It has changed and saved American lives. It has set this country on a smarter, stronger course. And it's here to stay.

On March 23, 2010, I sat down at a table in the East Room of the White House and signed my name on a law that said, once and for all, that health care would no longer be a privilege for a few. It would be a right for everyone.
Five years later, after more than 50 votes in Congress to repeal or weaken this law and multiple challenges before the Supreme Court, here is what we know today:
This law worked. It's still working. It has changed and saved American lives. It has set this country on a smarter, stronger course.
And it's here to stay.
If that means something to you today, add your voice here.
This morning, the Supreme Court upheld one of the most critical parts of health reform -- the part that has made it easier for Americans to afford health insurance, no matter where you live.
If the challenges to this law had succeeded, millions would have had thousands of dollars in tax credits taken away. Insurance would have once again become unaffordable for many Americans. Many would have even become uninsured again. Ultimately, everyone's premiums could have gone up.
Because of this law, and because of today's decision, millions of Americans will continue to receive the tax credits that have given about 8 in 10 people who buy insurance on the new Health Insurance Marketplaces the choice of a health care plan that costs less than $100 a month.
If you're a parent, you can keep your kids on your plan until they turn 26 -- something that has covered millions of young people so far. That's because of this law. If you're a senior, or have a disability, this law gives you discounts on your prescriptions -- something that has saved 9 million Americans an average of $1,600 so far. If you're a woman, you can't be charged more than anybody else -- even if you've had cancer, or your husband had heart disease, or just because you're a woman. Your insurer has to offer free preventive services like mammograms. They can't place annual or lifetime caps on your care.
And when it comes to preexisting conditions -- someday, our grandkids will ask us if there was really a time when America discriminated against people who got sick. Because that's something this law has ended for good.
Five years in and more than 16 million insured Americans later, this is no longer just about a law. This isn't just about the Affordable Care Act, or Obamacare.
This is health care in America.
Today is a victory for every American whose life will continue to become more secure because of this law. And 20, 30, 50 years from now, most Americans may not know what "Obamacare" is. And that's okay. That's the point.
Because today, this reform remains what it always has been -- a set of fairer rules and tougher protections that have made health care in America more affordable, more attainable, and more about you.
That's who we are as Americans. We look out for one another. We take care of each other. We root for one another's success. We strive to do better, to be better, than the generation before us, and we try to build something better for the generation that comes behind us.
And today, with this behind us, let's come together and keep building something better. That starts right now.
Thank you,
President Barack Obama