2014 IS A BIG YEAR FOR SMALL BUSINESS!
Small Business Expo is coming to a city near you.
Put your company in front of 50,000+ Small Business Owners nationally!
Participate in one city, two cities, three cities or tour with us to all seven cities!
We have packages that fit any budget.

3 Easy Ways to Get More Info About Exhibiting:
- Call us at 646-681-5867
- Click Here to Download the Exhibitor Info & Pricing
- Chat With Us Live Online




VIEW OUR 2014 PROMO VIDEO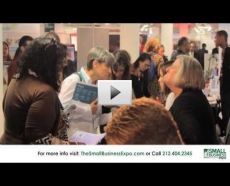 Over 50,000 Small Businesses Nationally
Shopping for your products/services!
Do you have a product or service geared towards small business?
Does your company provide a "must have" for business owners?
When was the last time you had access to
thousands of potential clients in one day?
2014 SCHEDULE
CHICAGO - APRIL 24, 2014
Navy Pier
DALLAS - MAY 15, 2014
Dallas Convention Center
NEW YORK CITY - JUNE 12, 2014
Pier 92
SAN FRANCISCO - SEPTEMBER 18, 2014
Fort Mason
BOSTON - OCTOBER 2, 2014
Hynes Convention Center
LOS ANGELES - NOVEMBER 6, 2014
California Market Center



MIAMI - JANUARY 15, 2015


Miami Beach Convention Center
2014 Schedule
CHICAGO - April 24
DALLAS - May 15
NEW YORK - June 12
SAN FRANCISCO - September 18
BOSTON - October 2
LOS ANGELES - November 6
MIAMI - January 15, 2015


Small Business Expo is the largest B2B networking event, trade show & conference for Small Business Owners & Decision Makers to shop from product & service
vendors like you!




WHY EXHIBIT?



Put your company in front of thousands of business owners shopping for products & services from vendors like you!

Get leads & new customers
Make on-the-spot sales at your exhibitor booth
Build your email database with GOOD leads
Press Exposure
Establish brand identity

Where else can you meet thousands of qualified leads in one day?

View Our Promo Video
Share this:




Forty-Fourth Annual Person of the Year Awards Gala Dinner
Rubens Ometto Silveira Mello
Chairman of the Board of Directors, Cosan
Sergio Marchionne
Chairman and Chief Executive Officer, Chrysler Group LLC
Chief Executive Officer, Fiat S.p.A.
Thursday, May 15, 2014
The Waldorf=Astoria
301 Park Avenue, New York City
If you can't see the images, please
click here
to view the email online
PORTUGUESE
Learn Portuguese from native Speakers
• Portuguese Language Institute started in 2000 with
the support of the Brazilian Consulate and the UN in New York

• For nearly 12 years it has offered Portuguese language courses
and Brazilian cultural awareness for children and adults.

• Small-group classes are taught by teaching professionals
and ensure that everyone will be able to participate.

• Advance your speaking, presentation,
accent, vocabulary, and writing skills

• Courses have been designed to build
fluency in both spoken and written language.

• Four major course levels that focus on
and teach a speaking or writing skill.

• Private individual and group tutoring is available.
There is Still Time to Join Us and
Learn Portuguese This Winter
wilsylvince.com

| | |
| --- | --- |
| CHINESE NEW YEAR | |
WHAT YOU MISSED WHILE I WAS IN CHINA!!
I just got back from my

China Comedy Tour

, where I toured eight cities in thirteen days. I wanted to share my experience I had with you!
Traveling from city to city I was able to take the

super train that went over 400 mph

!
When I arrived in China it was nothing like what I saw on movies. Everything was very authentic minus all the

bootleg handbags

. As soon as I got into my first cab, I realized 2 things about everyone; everyone speaks Chinese and everyone drove horribly. I wasn't sure if people were trying to committee suicide or just heading home from work. I almost saw 256 almost accidents till I realized that's how they drive and they're use to it. The whole time I was there I saw only one accident and

it was an Australian

.
The

food

was

incredible

and everything was fresh, including the fish -all I really ate for lunch/dinner was fish & veggies. They would bring the fish to your table alive just so you knew how fresh it was before they cooked it. Even the veggies they brought out to the garden to pick out your veggies from the plants - I'm totally joking about that one.
Who made it all possible
In China they have a dish called '

black chicken

' or 'black cock' (cock meaning rooster). My friends and I made a sign in Chinese that read "Big Black Cock For Sale". Everywhere I went there were mobs of people were trying to take pictures, videos, and even ask me questions. One family tried to get me to meet their daughter and hook up with her. More and more people kept coming then suddenly

over 50 cops came around me

asking me to shut it down (in Chinese). So I did.
I was excited to be there and to reach out to a market that was fairly new to me. I did a total of eight shows and most of the venues were completely sold out! I want to talk all my new Chinese fans for your tremendous support & I can't wait to go back!
Next stop...Canada, Australia, and Africa!!!!
WHY YOU DO DIS ON-SALE!
I want to say a HUGE thank you to my supporters who bought a
"

Wil Sylvince's Why-U Do Dis

"
tee shirt. I still have more shirts for sale and I just added "

whyUdoDis

" talking key chains as well. You can check out the key chains and other merchandise at
wilsylvince.com
.